June 5 is HIV Long-Term Survivors Day – it's actually a fairly recent phenomenon, with varied definitions. It's 5 June because that's when an article talking about five cases first appeared in the press, so – as in the work I'm writing (or supposed to be writing) now, it's not about the existence of the virus (they've found it in remains from the early 20th century) but about the date it was recognized in the world, so, culture. And cultural psychology.
And this year is the fortieth year since that article came out. So.
***
It's completely normal in PWA groups to compete, somewhat indirectly, over length of time and doctors and when and how bad, and famous people you've hung around with at benefits, etc. In the Newcastle groups I often win, quite unfairly of course – it's about the timing of when it appears in some cities rather than others; if I lived in London I'd probably have more arguments. It's kind of like "so you were at Okinawa, well I was at D-Day" arguments. I'm sure people will be doing this in nursing homes for the next fifty years, at least.
The loooooong stretch of our Patient Participation Team (PPT) in Newcastle, talking to medical students about our life experiences since early 2004, means that I've told all my stories many, many times. The people who've spoken a lot in the group look at each other when certain questions come from the wide-eyed young students, and say, oh, Robert has a story about that, or let's tell you how Claire was told her status. Or, that one's for Paul, you have to tell that story now.
Of course there is a tendency for such retelling to fix things in place, restructure them, and sometimes alter them... which is unavoidable really. Sometimes it's like remembering being at D-Day for someone who really showed up the next day. Or Woodstock for someone who didn't get there in time to see Hendrix.
I actually wrote about this in one of my favorite published things, the one about Reid Beitrusten, which I re-posted recently – Writing a Story for You – and now, as you're no doubt aware, you are in the position of sitting in a dressing room with an aging actress who is looking at a picture and saying, oh, the Barrymores were lovely to me, absolutely lovely.
It's the nature of memory – especially when it's altered/amplified by the fear of death (see the books by Becker and his followers – the fear of death is a basic psychological force, it causes people to raise monuments and publish books and found corporations and hold anniversary dinners – everyone wants to be remembered, somehow). We need to tell our stories, in the hope that they will be remembered....
***
But okay this garrulous actress should pause her musings and go back to the first point here, which was to outline My Stats: the basic facts of when I got into the HIV game.
I started getting laid around 1975; in the summer of 1979, just a few weeks following the Harvey Milk riots (about which I knew nothing at the time), I flew from Washington, DC (with two oversized bags, and my mother crying a lot at the airport) to San Francisco. I did that because I'd screwed up my degree at U.Va. (a four-year course finished in three years, but with terrible grades – because I hadn't gotten in to Princeton my life was clearly already over, a waste of time for everybody; and a couple of years in Washington merely proved I wasn't getting anywhere; and I'd read Tales of the City with a group of friends at that wonderful café/bookstore, and I believed Armistead when he told me that San Francisco was Different).
Wow okay this is definitely garrulous, and it's all prequel, so. Let's speed up and select.
In the winters of 1981 and 1982, I'll have obscure flu-like illnesses that suggest seroconversion. I remember bumping into Reid on a streetcar while going up to Parnassus to UCSF, both of us feeling confusingly ill, including STDs, and talking about feeling very... uneasy. He looks haunted... I think I do, too.
In the summer of 1983 Reid falls very, horribly, ill, in the now-famous Ward 5A. I come visit him occasionally, not really knowing what to do – he tells me I'm wasting my time screwing around in San Francisco, I should go get a PhD somewhere. I try to apply to Berkeley and UCLA; a week or so after he dies, on 2 December 1983, I get an acceptance letter to UCLA. They know my undergraduate degree was crap, but I've been writing program notes and singing in groups, and they decide to gamble.
Yeah, too much detail, again.
In the rising excitement of going to UCLA, there is also the rapidly increasing darkness of AIDS; we know more by the month, and also less. It hits San Francisco like a ton of bricks – obviously David France's recent book focuses on New York's ACT-UP, and he's trying really hard to not offend anybody, but he is annoying flip about a 'few cases' in SF. There were a lot of cases, it was a smaller and more focused city – even though the Village had a certain social containment it always seemed as though AIDS in New York, or London or Paris, was a thing happening across people who were distributed among many networks, nodes, structures; in San Francisco, with an estimated 100,000 LGBTQ people among the city population of 600,000, it was absolutely... well.
It hit us like a ton of bricks.
Theater Rhinoceros allowed Leleand Moss, a very New York actor/director, to put together a workshop of writers and performers that became The AIDS Show, which ran for, I think, ten days in August 1984. I was one of the ten writers and actors – I wrote five 'Party' scenes as transitions, all of which were fragments of dialogue that got darker and more charged over the period of 1981-4, and a final death scene, the 'Hospital' scene – in fact I'm the only one in the production who dies on stage (don't snicker). The otherwise lovely David Roman, whose famous book on AIDS theater was a landmark, unfortunately misread the long list of segments and authors and ascribed my pieces to another guy, which deeply pissed me off, as it kind of wrote me out of history. But I'm clear that Roman was talking about a lot of things at once, and also that – here I shall pout a bit more – as in France's book, those East Coasters always find it difficult to get interested in the details of what was happening on the West Coast.
But I was very proud of what I wrote – Leland didn't really get it, he was very Method and realistic in his approach, where I'd written surrealist stuff that reflected all the Grove Press/experimental books I'd been reading for years. I still think it was good; unfortunately, some years later when The AIDS Show toured San Diego and other parts of California, I went with friends to see it – and my scenes were absolutely terrible, inattentive and hastily passed through between the monologues; like any long-running show, the things nobody was paying attention to had disintegrated...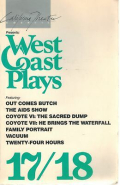 Anyway. I was a co-writer and performer in what we think was the second play about AIDS (after Robert Chesley some months earlier). And it was good and I was very proud of it. I wish I'd written more stuff like that.
***
But at this point you're in the actress' dressing room and she's just gotten to her twenty-third birthday when she met the Barrymores, and you're longing to reach the door, so I'll speed up.
***
Los Angeles – far less AIDS, the light seemed brighter and people less worried, and I was back in academe and it was going fabulously. I seemed to know what I was doing, despite a supervisor who disapproved of the poststructuralists...
No, speed up. Yeah okay, sex clubs and bars and the Eagle; sun and cars, moving to the apartment on Spaulding Drive... in 1986 I wrote one last composition on Japanese death haiku (I'm still proud of that one), realized I wasn't a composer, and... yes this actually is part of the story because death was increasingly, endlessly present, and I knew, sort of, that I must also be...
Oh, and there were three months in New York on a scholarship to meet famous composers. I was a fool of course, starting out by telling them about myself, but among the various (Wuorinen was an asshole, Reich distant), Meredith Monk was amazingly kind, and we connected.
And I was walking down Christopher Street the night after Charles Ludlam (Theater of the Ridiculous) died, at three in the morning, and saw the huge array of candles and flowers covering the storefront on a silent street, with 'We Love You Charlie' big in the center.
I mean, every story had the same point to it.
***
So, back in LA, April 1987 – the gay and lesbian center in Los Angeles, the blood test, then a few weeks later my results from Mitch Walker, a Jungian analyst in training. I already knew I would be positive, he told me I was positive, yet that was a huge shock... which is how these things work.
Mitch takes me on as an analysand, I have my first, five-year Jungian analysis; of course it is rather circumscribed because we both know I'm going to die soon, and that's the whole point, dealing with death. Mitch is amazing, a mountain climber of an analyst, Nietzschean and more than a bit scary, as Kast will later be – I take them as models these days (though I'm friendlier – I'm more willing to apologize for throwing huge chunks of reality at my analysands, though I do it anyway).
And I join Terry Wolverton's HIV writing group, which is mostly three to six guys across those five years writing in a room, and I write poetry and stories, and feel creative and incredibly happy when I finish a short piece. And very, very taken care of by Terry, which is why I've gone back to her now, thirty years later, for coaching as I try to write these books.
And John (now Laxman Das) becomes my AIDS Project Los Angeles (APLA) buddy, and he is a disciple of Ma Jaya Sati Bhagavati, a rather wild spiritual teacher from Florida, who visits LA and later SF periodically, and is full of life – she gives me the name Nachiketas, the boy who makes friends with death, and a kind of energetic mothering that changes me.
And all this time I'm still at UCLA, though from 1987 I stop actually working on the masters – yes, my degrees will take forever – but everything's overlapping with Susan McClary coming to UCLA, and a huge transition into the New Musicology, with Susan reflecting my work back at me in a way that will actually turn me into an academic. I know I've said it before, but if Susan hadn't become a mentor, then dear friend, there's no way I ever would have actually been successful, as academic or writer – I was digging existential pits for myself and being miserable in them, but Susan, and Philip Brett, pushed me to actually Do Stuff.
Which led to all of the musicological activities of the nineties, all of which nevertheless fell under the continuing shadow of Knowing I Was Going to Die Soon...
***
Okay I'm tired, you're tired, and this is really just my origin story, right? So, a few high points:
I tell my family I'm HIV+ a few days after Christmas, in I think 1990. It doesn't go well, but hey, it's done.
I finish the masters, a response to Adorno, in 1991. Vince Pecora, Adorno specialist, mentions to me after my viva that the thesis is very angry... I learn something from that...
1992, move back to San Francisco. Gorgeous apartment in the hills.
1993, Fulbright to Germany. A year and a half, Darmstadt then Berlin, and it's all, yet again, a Last Hurrah – I'll be dead soon but I am viable, cool! A respected intellectual who can give presentations at Humboldt and at the Darmstadt courses!
1995-6, back to San Francisco, but now in a dilapidated building as the city disintegrates around me. No real job, grimy carpets, working for the building manager who's trying to minimize the amount of crack and speed in the building. I'm messing with speed and crack myself, meeting people who are truly below the line of expecting to live their lives. I remember phoning my beloved Trisha after throwing all my drug paraphernalia in a trash can in the street, panicking that I've gotten in too deep, but...
Death is everywhere. Of course.
June 1996: that big fanfare over the New Medications. I have the Time magazine featuring Dr David Ho, our new hero.
Everything is changed.
There was a big conference scheduled in Florida later that year around famous writers and AIDS – they actually had to reorient the whole thing:
because if the plague no longer seems to walk the streets, the shape of time and emotion and existence are all so unbelievably changed...
***
1997-2001, first job in Hong Kong. Money, huge flat, respect, success. 2001-2, Australia – that great job in Sydney, but I haven't told them I'm HIV+, and the government rejects my right to stay and, after a year of living with John, deports me. Huge crash in money and career and hope: my tendency to assume my life is ending takes over my expectations, again.
2002: job in northern England. Too damned cold, and far from the urban things I love, but a smart department, kind people, a good-hearted city.... I gradually recover over the years.
2009. Visit to Zürich to reconnect with Jungian stuff. Then, that summer, a minor stroke... death appears again, in a different form. More personal this time.
Sometime in the 2013-2016 period, Verena Kast points out to me that I have no expectations for myself, and I realize I've been expecting to die for decades. Decades of knowing that, whatever I was engaged in doing, it wouldn't last long – and also, underneath that, and more dysfunctionally, knowing that never finishing a book or any major work would be something I could get away with, because... I was going to die too early, full of tragic promise.
You know, when you pull that sort of self-deluding game for decades, it sort of wears out. It becomes increasingly unbelievable, as such things do. And my secret, that I never seem to finish anything substantial or important, is exposed as a reality, not merely an accident of dying too soon...
But I also realize, after Verena faces me with it, that I'm not endlessly dying. My Jung-Institut thesis, The Passionate Body, is about AIDS: because the body with AIDS is not merely a body that's disintegrating and dying, it's one that passionately wants to live: anger, grief, activism, memorials, sex, drugs – our stories and our rabbiting on and on about being long-term survivors – all these things are evidence that living is the thing that we insist on doing.
***
So, now I want to write this shorter, commissioned book on the psychology of the politics of AIDS, and though I've already taken a year and a half longer than I expected to, it isn't impossible to finish – especially with the help of Terry, who has returned to my life, just when I need her.
Then an expanded, completely rewritten version of the Jung-Institut thesis: the cultural complexes and underlying archetypes of AIDS.
And even, maybe, that long-drafted overview of music about AIDS – not as detailed as work by other musicologists: I want to try to put it all together, to see what music has done for forty years... that third book already has eighty pages of single-spaced draft, but is full of holes, of course.
***
Last month, a minor event that suggested a stroke – then various minor symptoms and side effects: some weeks of panic around a stroke, but then I was told most of the problems suggested liver problems rather than neurological ones. A relief because liver problems are slower, and don't suddenly end things.
So, me, and AIDS, HIV, and death, and life, and continuing.
I hope I finish a lot of stuff. But, as I told Fred years ago – he was upset at this, but I meant it, and I still mean it – if things don't get written or published, that doesn't seem like a real disaster.
Because, and it's a cliché but it feels absolutely real, the only aspect of all this that still feels necessary, unavoidable, is the simple fact that I have been here....
***
Happy HIV Long Term Survivors Day, 2021.