It is, approximately, the last warm day (or, the "last," "warm" day).
Which means that today was in the low 70s – warm for the North Sea – and tomorrow is a fading version of the same, without sun. Then we drop to fall temperatures.
Sometimes we have a burst of late summer at the end of September – I remember an especially glorious example about ten years ago: a balmy evening, light shirts and late sun, we were at Bar Loco, where so many of my students like to perform and hang out; school wouldn't start for another couple of days, so it was like a vacation from...
well, everything, I suppose.
I actually met M. that day, in fact.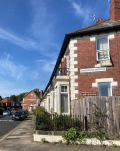 Such weather may reappear this year....
***
Yesterday I argued with M.: not for the first time, but perhaps the most dogged – I was angry. And, I suppose, a little frightened.
As with most the younger people around me, including several of those who have recently started analysis, I am, probably reasonably, concerned about how they're going to manage – if COVID messes up economies and jobs, especially bar and restaurant jobs, I don't know what they're going to do.
It started when M. said: You're the only person I know who's doing well in the crisis – in lockdown and quasi-lockdown, in the COVID crisis, in the current hallucinatory shambles, which combines health panic with the worst Anglophone governments in a very long time....
Which is, basically, true: I haven't been frightened, or fazed, or disoriented. As I've said – rather a lot, and perhaps somewhat defensively – the people in my HIV groups haven't been scared either. The shattering discovery that we could all get sick and die? and that the situation might throw our jobs and lives and plans and relationships off-kilter?....
For many in the HIV communities – unless I'm being willfully blind, which is not all that improbable – these worries are so familiar as to be barely interesting.
For me, my university job is just fine – I am indeed going a bit part-time; but I also have more analysands every month... there's a slightly unpredictable planning dance about it all: I don't want to be swamped with patients, but I don't know quite many I can handle. At the moment, about ten to fifteen per week... I know, that's a lot. Some are more tiring than others, of course; but they've almost all agreed that I can change from 60 minutes to the old-fashioned 50 minutes, which I'll probably do this month. After all, online analysis – screens, Zoom, FaceTime, Skype – is unquestionably more tiring....
I'm delaying going to 50 minutes mostly because it feels a bit like the thing a utility company does when they raise their rates: you aren't going anywhere, you know it and they know it, and they send you a handsome multi-colored letter of apology with statistics and charts, but it's not really something you get to agree to.
***
If I were one of my analysands, I would have interrupted this rambling by now and said, so: you had an argument?...
Yes, we argued. Or, well, I argued. M. has several plans for creative things to do if he loses his job – and unfortunately his employer is easily panicked, they've discussed closing several times in the past few years. Loss of customers from COVID have induced several conversations about who's going to get laid off, and when. M. is in good shape, relatively, but if they simply close the place....
And so another friend of mine, N. (does this begin to sound like a Victorian memoir? Or a pornographic novel from the 1920s? well, there are more initials coming) offered to help him make some business plans. She is brilliant, and often happy to help friends for a home-cooked dinner... but M. has not contacted her; and he said he felt unsure, he hasn't talked to her for months, what does she think, is it too embarrassing to face.
Which is when I started to get, as they say, stroppy.
Not only pushing him – you can imagine the kind of parent I might have been – but getting fairly threatening.
I don't mean I threatened him, but – I said things I have not said for six months of lockdown: that many jobs and companies will slide towards oblivion, that bar and restaurant income might vanish, that a lot of people will probably be out of work by next year. That we live in one of the countries that is least likely to help the unemployed or desperate, and it's five years before an election. That he might have no way to support himself, and no rights as a foreigner, in what is now a ruthlessly xenophobic country.
That if he wanted to do anything, he should be getting help, especially freely offered help, and doing it now.
Because (as you can tell was implicit in my tone) this world is – probably – ending.
***
I have decades of reading science fiction, and TV and films, and then of course there's nearly four decades of AIDS, so laying it on a bit thick about dystopic prospects is the easiest thing in the world for me.
I may have overdone it....
***
M., like his Greek friends, enjoys argument, and likes to present strong opposition. I, of course, always do badly with this – my youngest-sibling stuff start to explode and, despite all my intellectually deconstructive training, I tend to hold a strong and ruthless line on the dark side of an argument. I said, I'm angry about this: there's no harm in you being uncertain, but you cannot afford to not call N. for advice.
After more of the 'enraged magus' stuff from me (I'm good at it, as friends know to their cost), M. said yes, he got it, and looked a bit exhausted... he doesn't like direct arguing. We walked home through the park, settling things in several directions at once – I admitted to the things driving me, as did he; and I could say: I know I sound like your father....
By the time we were at my home, things were okay.
***
There was an odd foreshadowing on the previous day, Saturday, in the midst of the half-deserted mall: I'd met M.-2 (there will unfortunately be three guys with the initial M. in this post; they are not ordered by age) for shopping and lunch. We sat and talked about everything, including vacation plans and the lack thereof, and eventually got to masks and public behavior. M.-2 (I can see I'm going to regret the format of that abbreviation – I mean really, a period and a hyphen?) found it easy to be clear: he takes COVID seriously, he can wear a mask, but he isn't scared and doesn't worry about it. A woman who is his best friend, who has weathered a cancer recovery in the past few years, feels the same – the two of them are known for being clear-headed and non-hysterical; they are really the rocks of emotional stability in a large group of friends and acquaintances.
And they're honestly not worried – and, theoretically, neither am I.
Or, let's say this more clearly: I'm not worried for myself. I don't expect to catch COVID, and am not terribly scared of it (there's an ironic overlay that people on HIV medications don't seem likely to get it, though that may or may not include the meds I'm currently taking). But I honestly don't worry about me....
But yes, I am, even passionately, worried about M.
And a lot of the youngsters.
I'm not sure I had realized just how much that was true.
***
So, back to Sunday, after parting with M. (that's M.-1 if you like).
The evening continued on to my usual Sunday Skype with M.-3 and R., or, if you prefer, the southern California contingent.
Despite the fires, and the dark orange skies above San Francisco, they are safe where they are. They were a bit tired, but relatively happy – they have just moved, to a place that is far pleasanter, with cooler weather and better air and friendlier people. M.-3 does have a ton of admin, and had to tragically let go of too many books in the move, but I know he's not really unhappy; so when he started to list his problems I was... detached. Kind of overtly uninterested.
And eventually I got around to the entire what-happened-today-with-M.-and-why-it-was-so-intense. Which kept unfolding: yes, things are good for me, and yet...
I found myself complaining about something I hadn't really noticed, with increasing energy and exasperation: I am on two email mailing lists for Jungians (I'm hardly bothering now with the musicology lists), and one of them has contained a daily barrage of anxious arguments, fussing, chaos.... I woke to 29 messages yesterday from one list....
A lot of the analysts and therapists I've gotten to know in the past decade are sensible and calm; many are frankly quite wise, have a sense of time and how to hold difficult things of all kinds. They don't overreact, and can handle problems without flinching.
But there are others who may be good with their clients... but who can be infuriatingly anxious, thin-skinned, panic-stricken, irritating. Fretful poor-you messages, trivial squabbles over terms, and what seems to me an absolutely deluded assumption that the entire world wants to hear about worries and projections in the worlds of politics, safety, crises, rights, and the palpitations some of them seem to be having over it all....
My last analyst, Brian, had a strange but brilliant theory: that people who care for others in the psychological professions often tend to be a bit borderline. That they are too thin-skinned, bursts of fear and anxiety frequently disorienting their experiences, more than other people.
Most of my new colleagues in this my third career are level-headed, many of them frankly quite wise. But there are the frantic ones, the frenetic ones – and they keep sending feverish emails, every day...
***
M.-3 and R., who had definitely shifted into carer mode in response to my intensity, came sensibly to the decision that I should leave the email lists.
Later I realized that I can't actually leave the lists – there are too many connections I need to maintain – but I can have all those emails dumped into a folder, to be ignored as long as possible, and then mostly erased.
I felt considerably calmer, clearer-headed, when we reached this simple strategy... it felt a bit like managing to move away from irritatingly noisy neighbors, who never do anything actually illegal, but who are exasperating in unpredictable ways, twenty times in a day....
***
We spoke about the fires, and the skies, and the analyst who had said on the email list: it's not 'like' the apocalypse, it is the apocalypse. Which I thought amazingly stupid: you're going to go through a tense time, constantly thinking, This is the end!... how idiotic is that?
And how can an analyst, who has been through analysis herself, not be able to see that?...
(M.-3 has an unusually detailed background in Christian theology, and corrected me: this isn't apocalyptic, it's eschatological. Apocalypse comes from the word for 'revealed', as in secret – end times are eschatological. He is right, but I'll never remember this in times of stress, so...)
I told them both about reading Pitchaya Sudbanthad's brilliant Bangkok Wakes to Rain: climate change moving back and forth over three centuries, in Bangkok, a city more low-lying than London... a place that knows its future is risky. But the author (whose name I still can't quite spell or pronounce, but okay) doesn't treat it as The End – but as an intense time of changes: his characters continue, but things are... different.
***
Between these things, an extended dream, with much concrete detail but not much intensity. I am wandering with a young woman and a young man (I am also younger, I think) through a series of small towns, a bit like movie sets along both sides of a large highway through an empty countryside; and the place we choose to explore turns out to be a school, underground; we can't seem to get past it to anywhere interesting, we go down and then come back up, and finally turn around to return through a clean, yellow-beige, slightly miniaturized version of a parking garage.
As I woke, I thought: a mildly boring but not upsetting story: it suggests the exasperation and slightly off-center quality of preparing for the university year, under awkward but non-threatening circumstances: I will probably be virtual, be online, for the entire first semester... or longer.
Being a virtual presence, doing a virtual kind of work: it was fun last month with the lecture on individuation for the South African group (they liked it, and will have me do two more in October on music and Jung, and then next year more, again).
But half of all my lectures at Newcastle need to be pre-recorded; and frankly that seems deeply boring...
And module handbooks, and fussing over procedures. There is a lot of rather fiddly control of minor actions at my university these days, always driven by that amplified institutional anxiety: box-ticking....
***
So, back to today, the last day of... okay, not summer, but perhaps of summery-ness.
The quality of the day was interesting: I showered, dressed, got a haircut – but moving slowly, lazily. Some sun, a long walk through my neighborhood, considering the new idea that's grown over the past couple of weeks: that I might move to somewhere around here – a house, a rental, more space than I have, enough to see analysands in a specific room. A bit more space and a new sofa, and a bigger bed...
so if moving to Barcelona or northern Italy is just too difficult, I can still upscale my life, a bit at least. As I've been in this flat for eighteen years – longer than anywhere in my life, by a too-long shot – it is time for a change; and if it's change for the sake of change, that's fine with me.
***
And today was also reading: I lay on the bed in the sun, and I read. An analysand is writing his second book, and he told me that he thinks one of the things that got him back to work was reading – Stephen King, or anything really – rather than television. So, when I am wasting time over the past week or so, I read –
as I used to do, for decades, on four continents, in so many bedrooms, living rooms, cafés and libraries: getting away from worlds of video, back to the worlds of print....
***
The last warm day floats along. Not many people are around, but the day is beautiful – really beautiful.
And, unexpectedly – I must have changed a great deal, as this was once something I found so difficult – the awareness of changing time is not painful. Going through yet another one-way portal in the year, going, always, in only one direction through time. You won't be back here again...
and that's okay.
Not grieving, not guilty – I'm not writing, it's true, but that doesn't mean I'm a failure, that I don't really exist. And I'm leaving summer behind, but that's okay too, there will be other days.
I do, still, wish that I could share this day with someone – but it's okay: this is not painful.
Which is amazing, really: that's my individuation at its core, isn't it?
Time, and life, as experience that is not painful....