[My analyst told me about a brilliant exercise they did at the Jung-Institut in the 1980s – something we should do again, I think: write a fairy tale. I started this one last fall: it aims for some sort of journey or change... I haven't written more on this one; I may put it aside and go write something else in the same line; we'll see.]
There once was an aging king in a quiet kingdom…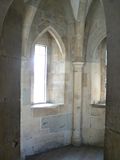 He walked through the castle afternoons, although it didn't seem to change much from day to day. Most of the rooms were silent, and merely dusty; he tended to avoid the armory, which reminded him of old battles, and also the rooms where young people had lived, where there had been parties and laughter. The walls of the grander hallways were lined with large, heavily framed paintings of dead kings, queens, and noble men and ladies, some of whom he remembered; there were paintings that were very beautiful, and others that were a bit ridiculous, and he was a bit sorry for the artists who had been hired to make something out of such faces. He went past the passageway that led to the treasury rather quickly, because he was fairly sure that the floor could be seen in many spots around the room; but it wasn't bare yet, so there was no point in looking. He was more comfortable in the vast library, which contained an enormous collection of tomes and scrolls of all kinds, in good order if a bit dusty; but he had to admit that it no longer gave him as much pleasure as it did once.
There were testaments to past glories – framed treaties, plans of the schools that had been built for the kingdom's children, pictures from every angle of the great park that lay around the castle, records and drawings from the quest that went to the foot of the mountains and back – and they were all in good condition. But they were also a bit stale, a bit dusty – and when he looked down from a balcony, he could see that the park was still kept well enough, but it seemed duller than when it was new, and the gardeners seemed to keep the same plants going year after year; and they all looked a bit older and shabbier.
He rarely saw the few servants; they generally left meals, at fairly regular intervals, in the big, silent banquet hall, which did have cobwebs in the corners, though it didn't seem worth pointing them out to anybody; and they apparently took the plates away after he left the room. If he looked from the balconies on one side of the banquet hall, he could see down the hill from the castle, and there were all the homes of the people, with herds and farms, shops and taverns. It all looked fairly stable, and seemed comfortable enough, but not many of them ever ventured up the hill, since the castle had gotten a bit of a reputation for having ghosts in it; and, in any case, there was little need for them to speak to the king or the few remaining officials, let alone the servants.
One evening, as he was looking down on the lights of the town, he heard a sound behind him and turned around. He couldn't see anything, but he thought he heard a sort of chiming, a ringing that suggested a voice, almost like words that had somehow been turned into bells. He lifted a torch from a sconce – it took a strong pull – and walked toward the sounds, and then he realized that they were moving – and they kept moving, across the hall with its empty bedrooms, down several staircases to the great hall and along the length of it, the torch flickering as he walked across the big empty space. At the far end was a small door he couldn't remember seeing before, and the sounds seemed to disappear into it – but it was locked; he wandered around for a while, vaguely looking to see some sort of key; and finally he went to bed, thinking, with some surprise, that here was something that he actually wanted to do.
The next day, he went down staircase after staircase all the way to the great kitchen, which he hadn't visited since he was a child, when his nurse brought him down to show him around the then busy, bustling castle. The kitchen wasn't as he remembered it – there was just a middle-aged woman stirring a pot before the fire as a maid slept, a scrubbing brush in one hand and another pot in the other, near enough to stay warm. The cook was startled – she had not seen the king for years, and perhaps she didn't even recognize him at first; but she collected herself and curtseyed clumsily, while drips from the ladle fell onto the floor. She nudged the kitchen maid with her foot as she said, Your Majesty, why, whatever are you doing down here?
He didn't quite know how to ask about the voice with the bells in it, about the small door he had found, so he said, his voice a bit rough from lack of use, Steady on, and, As you were. After thinking for a moment, he asked, hesitantly: can you tell me – what do we do in the castle when we see, or hear, something strange? I mean – I'm sorry, I'm not making myself clear – who can we ask about things that are, well, unusual? The cook was at a loss for a moment, but then she said, Well, down here we sometimes ask the old woman who comes around begging, round about lunch time. With your Majesty's pardon – she suddenly looked a bit nervous – but I do give her a bit of food, most days. He said, no that's all right, well done, it's good of you to… so, is she going to be here today? Ah well I can't tell you that for sure, Sire, but the chances are good. Well, would you mind if I waited here in the kitchen? It's warm, and… By now the kitchen maid was fully awake and gaping at him in astonishment, and the cook turned to her and said, Get up there Mary, find his majesty a nice chair, one with a nice comfortable cushion if you can. And so he sat for a bit, watching the cook, who stopped being nervous after a while and continued making the stew, occasionally commenting on what she put into it for his dinner: it's good meat, and it's worth an onion to keep off colds, here are some nice vegetables from the kitchen garden.
After he had sat for a while, he heard bells from the church in the town – twelve, he counted, so it must be midday already; and on the last bell there came a call from the door ajar to the back garden: Give food, give alms, give help, and what shall not be given to you! The cook looked slightly nervous but said, Well there you are, she is here today! And that's what she always says, I wouldn't pay too much mind to it though, she's poor as ditchwater and can't hardly walk besides, she can't give anybody much of anything, I thinks. The king stood and straightened his clothes a bit, wondering exactly how to ask what he wanted to ask, as the old woman came in slowly on a crutch, hobbling into the room with a purposeful walk, as though she owned it. Won't you sit down, good mother, he said to her, pulling forward the wooden chair the maid had gotten for him; and the old woman caught sight of him and she said, Ah, here's one!
Here's one what?, he thought, but then realized that might be rude, so he stood and watched as the cook ladled some stew into a bowl for the old woman and she ate with gusto. When she had eaten it all, he asked, tentatively, Good mother, do you know anything about – about a voice like bells? And in this castle, it's upstairs, there is a small door, but I cannot find the key… His voice trailed off, thinking, how silly these questions sound, she has no idea what I'm talking about. But the old lady, whose eyes seemed brighter and her face fuller after she finished the stew, wagged her finger at him: The door, the door! Of course you can't find the key! They are there, you know, all of them… but they can't come out (she chuckled, was it with malice or with anticipation?); they can't come out, they can't, unless the one with the gold heart touches the door, just so.
The one with the gold heart? Who is… But the old lady was already hobbling towards the door and the spring air outside. Madam, I insist, you really must tell me – But she turned and put a finger over her lips, and said, No more would I tell you, no more will I tell you, no more can I tell you. And she turned again to the doorway and walked through it, crying, Give food, give alms, give help, and what shall not be given to you! And, faster than he would have thought possible with a crutch, she was gone.
The king looked helplessly at the cook and the maid, who seemed to be waiting for him to do something; after mumbling a sort of thanks, he turned and walked back up the stairs, conscious that years spent alone upstairs had lost him the manners that had been drilled into him in the royal nursery – not to mention proper ways to speak to servants. By the time he had reached the great hall, he forgot about all that, as he started to wonder: so, where is the one with the gold heart?... He walked restlessly from one end of the hall to the other, occasionally glancing sideways at the small door each time he walked toward it. Finally tired of wondering, he climbed back up to look at the town on one side of the castle, then the forest on the other, crossing and recrossing the hall as though he would trip over an answer somewhere, if he only looked long enough.
It was growing dark, and the steady light of the evening star glowed at one side of the sky, when he suddenly realized: I won't find any answers here. I've walked through every room a thousand times, even the empty ones; I've read the books and looked through the maps, it's not there either. I need to go, to go... somewhere. He looked straight up at the evening star, turning over this new idea, and realized he was actually getting interested – excited, even – at the prospect: something, something new....
Something: anything at all.
He didn't want to disturb the kitchen again, and in any case they would be making his dinner, though he didn't much want it now. One of the remaining footmen lived up a few floors, on the south side of the castle; although he hadn't seen the man in months, or perhaps it had been a few years, occasionally he could hear the clack of boots on the uncarpeted stairs that went up to the old servant's quarters. Muttering to himself, he went up past the floor where the royal bedroom was, past several floors of silent guest and meeting rooms, and looked up a narrow, unlit staircase. He had to hoist his robe a bit, and turn a little sideways, but he reached the top, hardly puffing at all. The corridor was dark, but as he paused, he heard a scratching sound, and an open stone doorway several rooms down to the left showed a glow of candlelight. He straightened up and walked over to the doorway and stood in it, framed with the dark hall behind him. A thin, rather elderly man, wearing livery but with a warm pullover over top of it, stood at the table, where several decks of old, bent cards were spread out in a large pattern of some kind of complicated solitaire. When the king coughed slightly the man turned, but the sight of the figure in the doorway caused him to gasp and drop the candleholder, and the light went out. The king said, Steady now, it's me, from downstairs – and a few confused mutual apologies gradually resolved as the man found a match on the table and lit another candle. After looking at the king for a moment – perhaps to make sure he wasn't a ghost, or some reflection from the candle – the footman said, It's Jarvis, sir, begging your pardon. Thank you, Jarvis, I'm sorry to have startled you. I'd like to – well, I'd like to go for a trip. Or really a long walk, perhaps – tomorrow morning, if that's all right. Is there travel clothing – nothing flashy, just something I can walk through the woods wearing, that will be strong and rather, I suppose, informal? Jarvis thought for a moment, and said, Informal, eh, I suppose there is hunting gear, leather breeches and warm jackets. I could clean some armor, if you thought – No, no armor, that won't be necessary. It's not as though I'm going jousting or anything, is it?
Jarvis didn't laugh at this, but seemed to be getting a bit excited himself – it had been years, the king realized, since he had been given much to prepare or clean. He looked as though he was trying to remember just what one needs for a journey, even one without horses or attendants; for several hours after the king went downstairs Jarvis kept trudging down to ask, And how about a good hunting knife? What if I ask the kitchen to put some food in a knapsack? Finally he asked, And wouldn't you like me to come with you, to, well, make sure that things are all right? The king said no, I think I'll go alone this time, at which Jarvis looked rather disappointed. But this will be just a few days, perhaps, and next time we can both go see something interesting. Jarvis had to be content with that, and he went back up to his attic, leaving the king alone with his thoughts.
The next morning, he found clothing left by Jarvis in his dressing room. Breeches, a couple of large broadcloth shirts, a jacket – with the boots and knife, a fair selection that looked anonymous but comfortable enough. He had practically finished dressing when the footman showed up at the door – the man looked slightly disappointed, as though he would have liked to be useful, but hurried to help with the jacket. The kitchen will have some breakfast for you, he said – thank you but I think I should get moving, said the king. How about just – well, some food for the road, you know – the way we did when we were young… I assume they have dried meat, some way-bread, maybe an apple or two. Yes, sir, I think all of that is ready –
The king managed to keep the fussing to a minimum, and passed the kitchen quietly as he went to the back of the castle, to leave, not by the great gate, but by a smaller door off a rather dusty passage. There were no people in sight on this side of the castle, and few buildings as you looked down the hill, perhaps a distant roof; that seemed right to him, and he began to feel a certain relief, a relaxation of a feeling he hadn't known was there. He walked across the lawns, starting down the hill and veering gradually toward his left; it seemed that no one was out on this side of the castle, and he glanced over the lawns and paths that went toward the castle's graveyard. The graveyard itself was old, the memorials …
... 
The forest grew up gradually around him, from gnarled bushes to trees; certainly at one time people from the castle, and the town, would have cleared more of the brush, but now it glowed with dim greenish reflections of the glints of sun that filtered through the leaves. The forest felt sheltered, safe: the sounds of birds and small animals made him wonder why he had waited so long to leave the dusty, cool castle rooms. There did seem to be a vague path – sometimes visible, sometimes more a matter of finding the less cluttered tangles of trees and fallen branches.
...