'Three in the morning' has shown up in several of my published papers around AIDS since the mid-1990s. It generally refers to the same nexus of memory, feeling, implications: a quality of being in a hospital room, an anonymous room that could be anywhere, in the middle of the night; lights are very low but not out, as they never are in modern hospitals; no one is around, and you are... uncomfortable.
Mild pain, perhaps wakefulness, you can't stand this bed any more, or your guts hurt, or your leg, or... something.
It's always a marker for that point where you question everything, wonder about everything, try to figure out who you are, face the discomfort and confusion of illness, perhaps with real pain tonight, and whether you will be dead soon; what have you done, what haven't you done. The sadness of losing things, or of leaving the living world when things haven't worked out, or the anger or frustration, or the relief of losing all possible agency, of no longer even being able to worry about getting anything done, as it's out of your hands.
•••
Although this imagined room doesn't recall anything specific, I can also think, in flashes, of particular hospital rooms – one high in the UC hospital on Parnassus Avenue in San Francisco, above the city, in the mists of that chilly, gray hill with its dramatic views: a sense of being far from the everyday – it's a startling climb to get there from a low spot like the Castro/Mission area, though it's only a few blocks on the map, and it's noticeably colder, further from everything. Sort of like the city's Magic Mountain, a tuberculosis sanatorium where everything has loose emotional tags of meaning that constantly fly up in your face – but easier to reach of course.
Or a hospital room in Hong Kong, or one in Zürich, Stuttgart, Newcastle; a clinic in Adelaide, the solidly pragmatic but strangely labyrinthine corridors of the UCLA hospital....
In those articles, I usually use it as a warning against the purely political, as a contrast to the public side of HIV/AIDS, to the activist life: it always has a burden of ruthless, decisive awareness – this is it, there is nothing else at this moment, or possibly in the future: if you don't know who you are and what you are doing here, at this moment, then you never will. And there is no march or poster or benefit performance that will answer any of that for you: you figure it out alone, in the face of –
in the face of that chilly air, the mist, the high gray sky, and the city you can't see beneath the fog.
•••
I'm realizing that, lately, I have a new three-in-the-morning: in the past few years I regularly wake in the middle of the night.
For the past couple of months irregular bursts of side effects send me to take paracetamol (which doesn't have much impact, unfortunately – is that because side-effect headaches aren't caused by anything that paracetamol affects?), or mebevirine, or chlorphenamine or buscopan or loperamide or, rarely, propanolol, or of course to pee. I'll often wake with what instantly turns into a list of two or three things in my head, then back to bed to read, play sudoku on the iPad, resettle the duvet and sheets and now the micropore blanket – I'm doing a version of the old-guy-who-gets-cold thing.
It's a bit different than it was: calmer, but also resonant – every night it feels as though these shifting patterns represent a particular stage of age and health, a clear statement about the body and the status of time.
•••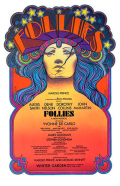 And, in the past few weeks – since Norma and I went to see the televised production of Sondheim's Follies from London; since I copied most of the major Sondheim CDs into the computer's database; since I bought the train ticket to go to London to see the show live with Amanda this coming weekend – I also wake to Ohrwürmer of fragments from the show, especially the big tune that begins the overture, the one from a duet that was dropped ('All Things Bright and Beautiful').
I get it in fragments of the large orchestral version – the points in the overture that are both gloriously beautiful and a bit too loud, a bit over-orchestrated, suggesting as they do that there is something very wrong here: that the past, and memory and time, may be grandly beautiful, but they are is also terrifying by their very natures; that the grandiosity is also the vastness of our existence in time, and that we are always overwhelmed by it.
Like the Follies girls that wander the stage – especially for woman, they must hurt even more than they do for men: they are so beautiful and inaccessible, and if someone once made you up to look that amazing, they wouldn't – couldn't – do that any more; it's not possible. So, of course, the famous poster, the perfect face in its immensely monumental version – which is also cracked stone, as though that time is long past, and desert sands blow over it in the endless dry wind.
That same tune also morphs into the song version, the audible voices of Sally and Ben as they show how unreal, how broken, their dreams are: I don't know if it was supposed to be young Sally and young Ben, before everything becomes horrible, or if it is old Sally and Ben, and she is in her impossible fantasy where it will all work out. Either way, a painful fragment of song.
•••
Sometimes other tunes appear from the show, or other fragments of Sondheim – but mostly, for the past few weeks, it is that song: it's automatic, it feels as though it's been running all night before I woke up...
It's recalls Buddy's lines, that shift from normal to disturbing by the placement of that one wrong word, of saying 'bad' where we expect him to say 'good':
"I see it all. It's like a movie in my head that play and plays. It isn't just the bad things I remember: it's the whole damn show."
Those lines are a warning, a threat, that when Buddy goes into the past it won't be a fun trip; that the past is bigger than we are; that nothing we do can reduce it in size and power; that fear and avoidance win us nothing.
•••
This is also resonant because, for years, I haven't been willing to play Sondheim's music, or put it on the computer – together with a lot of music that is emotionally affecting in some way.
Yes, that does clearly represent a fleeing-away, an avoidance, a helplessness... there are a lot of difficult emotions tied up in Sondheim for me, and things in me do go 'twang' or 'ding' and then continue to resonate in the wake of many songs, chords, lines. Like the ones mentioned above, or the collapsing world of Pacific Overtures, or the ironic despair of Company, the waltzing, unfulfilled longings of A Little Night Music or, perhaps saddest of all, the real emotions discovered in Passion....
How does that even fit in with the image some people have of Sondheim's music as cool and unemotional? Well, it doesn't, and I can't make those two things fit together; that response simply makes no sense to me.
And, even if sadness and loss is embedded in this music for me, why is it really so impossible for me to listen to it?
•••
There's an echo here of other works of tragic masochism: that way that we can focus on the way the world has hurt us, and identify with it so much that we keep doing it to ourselves, endlessly. We've been reading Forster's Maurice for the gay and lesbian reading group – not as unreadable as I once thought it, but lord it is a mess, isn't it. And the incoherent bits all go through his own ability to see himself clearly: because he can't bear to look at the awful thing he has made himself into – any more than Radclyffe Hall in The Well of Loneliness, another tour de force of self-harm....
•••
Well, from my angle, this is what has changed, at least partly: for some years such music/feelings were unbearable – it wouldn't be too much to say that entire emotional worlds became impossible for me to enter; around the time when it also seemed that (do I even want to construct this sentence? but it's true, so the words must be put together) that, because I would live here, alone, in a small northern city, for the rest of my life, I wouldn't be able to face strong expressions of sadness.
Or, for that matter, a great deal of the music I'd spent the last few decades studying or explaining: or a lot of books I used to read, or meant to read.
(Yes, I heard it too, I've just set up the melancholy-and-mourning distinction. Figures.)
As you can imagine, this hasn't really helped me produce research, for the past fifteen or sixteen years... in fact I think it's been a bigger problem than I realized, until lately.
•••
But now: now is somewhat, slightly, different.
In the past year or two, those large shifts in meaning, to where my life doesn't seem such a failure, such a loss: it is merely what it is. I've tried to explain this in other blog entries, so we'll take it as read.
And they moved us into our new offices, after two years adrift: my new office is smaller, less grand – but I've realized in the past few weeks, as I put books on shelves, that it is all more accessible, both physically and emotionally. It is not at all difficult to pick up all the books that refer to ancient projects – and prospects of writing about, or discussing, charged musical topics seem simply interesting, possible – neither too fraught with loss and the weight of failed hopes, nor too distant and cold and unapproachable.
Which doesn't mean I'll get around to writing about them – but it does definitely mean that it doesn't seem difficult to write about them. We'll see about the practicalities, of course, but the sadness and inability are simply... gone.
•••
And probably that is why listening to Follies, to Company, to Passion, is not unbearable now – those shows are no longer too close, they don't cut too deep.
Clearly the pattern of notes still sticks in my mind; and clearly emotional associations and projections onto Follies, onto Sally, still exist for me. The tunes and words recur in my dreams, and drift through my day...
But they aren't impossible to hear; nothing in me freezes or languishes as a result.
I can put the music on the computer – along with Bette Midler, with Mahler, with Schnebel, with Manhattan Transfer – and they can take me back to different decades, to different cities; but that isn't a painful journey.
I'm not too close to Sally, now – not crushed and self-lacerating; if there's no Ben, not now or ever, then okay, there's no Ben.
Instead it is somehow easier to move past Ben himself – the role I'd be perfect for, of course – to Phyllis: so, make hope, and it's the hardest thing you'll ever do.
•••
And I wrote this starting at 3 am – that time I've spoken about so often – and now it is 4:47 am; and I'm done I think, and it's time to return to bed.
Comfortable, no annoying symptoms.
No sadness, no disconnection.
Sleep....