In the dark of the year, I had the task of introducing one of our series of movie musicals at a local café. We'd chosen Meet Me in St. Louis – always an odd one: sentimental, structured – but at the same time there are strange, dark eruptions into the story: the youngest daughter in tears, destroying the snowmen...
Probably because it's made in the winter of 1944-45: the war has gone on too long, people need something to cheer them up; the end of the war seems as though it might be soon, but no one is certain. A lot of terrible things have happened to everyone; and a story from that time will inevitably get flashes of something darker, sadder, more real...

Though, at the same time, the movie is simpler and sillier than I remember, at least for much of it. My introduction is probably a bit off base, too much from my own point of view; but no one seems to mind, they watch, seated, as the café fills with a standing post-film crowd, then empties again. I catch the eye of a student who is often at these films – she always seems so in touch with their emotions; for once she is there alone, not with friends – and smile and nod reassuringly, as the Christmas segment ends, and I leave before the final coda at the fair.
•••
Home, putting my wallet down and hanging my coat up, undressing – the apartment is warm, but my mind is still moving onward: suddenly I become aware, as I haven't yet been this season, of being alone at Christmas. And also aware of the structure of stories, climactic events, happiness and unhappiness: at the end of the movie, for instance, is everyone really entirely glad not to be moving – hadn't any of them gone through a process of resigning themselves to the move, of anticipating the excitement of the future? Was anyone left behind by the family's change in plans, by the group decision?
We are beings in time: intellectuals often hate stories with structured endings – but of course there are great changes, strong endings, and characters that come together for the rest of their lives, in real life. The only thing is: after the ending of any particular story or event, we continue to exist, and must reconnect with the next stage of our lives, our imaginations – because time keeps going, the fairy tale closing is followed by more days, months, years, even after we think we have gotten what we want.
Or what we don't want: if I have tended to become an extraneous character, someone left behind by too many stories, that does not leave me outside of time and change. What if the family had moved, and the young man next door had lost his connection with Garland's character, and was offered a good job somewhere – and he moved, a modern figure making sensible and apparently necessary decisions, ending up living alone in an apartment in a big city? Not an ending that we would countenance: but a realistic one. An ending we would normally see as... well, disappointing perhaps, or proof that Marx and Adorno and Foucault were right: someone accidentally, casually, left behind by the rise and fall of existential currents, in a modern state where rational decisions often disconnect us from what matters.
And I think of Buddhist responses to this, which are generally more absolute, possibly to protect ourselves from uncertainty: it is all illusion – but isn't that an attempt to avoid pain completely? What if it is all illusion, but therefore we can take some of it as important, and ignore other parts that don't seem to move forward, to help us?...
•••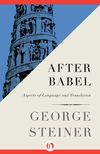 At that point, I am tired... and go to bed early; it is not yet 10 pm. I read a page or two of Steiner's After Babel, which cuts across these ideas at an utterly different angle, but in an enlivening way: the original 1975 edition was an electrifying, inspiring favorite of mine, then when my life and apartment were disintegrating in San Francisco in the late 1990s, the book was badly damaged, with many others, when a pipe blew – something that went right to my heart: the dried book with its damaged pages, almost unopenable, has sat on my shelf for years, touched with regret.
But now I have its third edition in electronic form, which is perhaps harder to destroy?...
Which may seem unrelated, to you: but again, time, visions of history, existential joy and loss, and change: the possibility of existence that we retrieve from these fragments.
•••
And then, even before midnight, a dream, uneasy and fragmentary, wakens me again: walking along a hallway with a young man in glasses, a student – or possibly one of my younger cousins: what is it when someone is a child of your actual cousin – is that a second cousin, or once removed?... anyway, I have several of them. And they are a distinct group in my personal universe – my nieces and nephew are definitely part of my immediate family, and my actual cousins and their daughters are a friendly bunch that connects to me easily; but these younger male sons-of-cousins are slightly further removed, mostly known at a distance. The three boys are all intelligent, lively, handsome – if I may be egostistical here, I tend to project aspects of myself onto them, more than I do my nephew and nieces: the cousins, with their Greek profiles, all faintly resemble me, or at least undamaged, happier, more successful versions of me – all three are more in-the-contemporary-world, though all are subtly distinct from each other. So, if they show up here, it is clearly a projection onto some part of myself that remains, after so many years and events... what, perhaps, I could have been, in a luckier universe.
And, although I cannot quite coherently reproduce our exchange in the dream – I have noted some of it for my analyst, but won't bore you with incomprehensible detail – in that dream hallway, we talk about realizing that things are, in their essence, all right: the younger man, whoever he is, insists that I explain what I mean by that, and I try to do so. I can't quite remember why it made sense, but – this realization that things do hang together, that things do make sense: and the long stretches of my life where I couldn't see that were my own myopia, my own existential error – I just didn't get it, as it were:
that my recurring sadness is merely a mistake in perception...
And the long, gentle night continues, behind the tree outside my bedroom window.