Today was World AIDS Day; a brief radio interview, then a panel after a film – and the film was Dallas Buyers Club.
Now, as it happens, I'd never seen Dallas Buyers Club before tonight. I have discs and downloads of lots and lots of AIDS movies, and television and other media – but quite honestly it never really seems the time to watch them, does it...

So: impressed, a bit shocked – and really pulled right back into the mid-1980s. I didn't know there was so much unattended memory there. Not unattended feeling – the feelings I can find elsewhere, and have – but the sense of an entire world, an entire set of thoughts and events and people that don't know the future and....
Well, you get the idea.
Of course my world was not working class Dallas in 1985; it was louche but firmly gay San Francisco, then a hazily detached Los Angeles. Then San Francisco again, this time in a beaten-up barely-ex-crack den of an apartment building; until I moved to Hong Kong, then Australia, then England...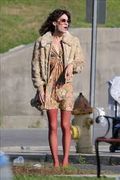 But my life did oscillate through the rougher areas and the more hopeless people and situations of the two Californias: the smell of low expectations, which is not completely unlike the smell of drugged carelessness.... and not entirely awful either, really. A hair's-breadth difference in some of my actions and I'd have ended up there, possibly permanently.
I remember more details of 1981-6 than I normally do: about Reid (whom I wrote about here – who died 2 December 1982, which is tomorrow, a day I always remember); about John, whom I didn't love even when he was making his attraction for me obvious, dying, and feeling guilty about that; about Billy whom no one expected to die, about Mark committing suicide – now why would you commit suicide when so many people are trying to hold onto life, doesn't that seem strange? – about headlines and people and rooms and funerals....
No, I don't think I can do this particularly coherently tonight. But I feel a sense of remembering, of it all being available to me, if only I pay attention.
Which is good because, frankly, it's my life: this here is merely afterlife – not unpleasant on the whole, but – though I may not have liked that earlier time much – it's what everything that matters was really about.