Having passed my remaining propaedeuticum exams in Zürich (which means: I passed the eight theoretical exams that end the first half of study; there will be seven final exams in two or three years, but they will be based more on practical experience), I have been recovering…
As we know (you in the back – didn't you know?), I am an introverted intuitive thinking type. Which means: big concepts, rapid, complex absorption, and a lot of missing detail (even, missing accuracy, as my own students sometimes know).
But, of course, individuation – the Jungian holy (wholly?) grail – involves development of all of the parts of the self.
So, the fact that I callously pushed my sensate side (my most unconscious side) utterly out of the way while my primary functions took over for the past two months, so that I could study for all of these exams, is… well… not very impressive.
I'm fairly unimpressed with it, anyway.
The signs?... not remembering my dreams (have I really remembered only three or four dreams in the past two months?); anxiety, pressure, a ruthlessly Faustian focus; snapping and snarling at people (hey, some of them deserved it), pacing, waking at odd hours every night, restlessly; and, worst of all, a remarkable disintegration of my relationship with my own body.
After all, I did decide that I wouldn't have time for yoga or meditation while studying… yes I get it, very, very stupid. In any case: painfully wrecked digestion such as I haven't had for ages, and in the last week of exams an unprecedented bloom of allergic rashes at various sensitive spots across my body – and they really hurt.
Since last Tuesday, the last of the exams, I have been recovering – rapidly. Rested, skin almost clear (and, best of all, not hurting), digestion still querulous but settling down. Cheerful, sleeping well… and, yes, still highly self-critical.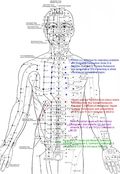 So, I haven't learned, at my age, to take this all in stride?... It reminds me of my PhD exams in the early 90s at UCLA. I had discovered something at a health food store, a so-called Sage's Ginseng, which, alone out of an entire line of products, consisted not of a bottle of sixty or a hundred tablets but of just ten tablets, each in separate plastic envelopes. Which, I suppose, was a hint about how many you should take…
Well, I scarfed those things down for a couple of months, and wrote six three-hour exams – on a Mac SE, after arguing the department into letting me use one o' them newfangled personal computers. Several of the exam papers were fairly demented (a redefinition of disciplines through the metaphor of a divided Belgium? a justification of conceptual studies interspersed with paragraphs outlining Hesse's Glasperlenspiel?), but I passed, and in fact later published versions of two of them.
However, I was definitely going to pieces – differently then than now, but still going to pieces. My acupuncturist, Maoshing Ni (still in Los Angeles, and a marvelously kind man), was really angry at me, for the only time I remember – he looked at the bottle of pills and said, do you know what these things do? All of your energy has been dragged upwards so strongly, your body is surviving on practically nothing – don't ever take that much of this stuff again, not without checking with me at least.
As far as I know, you can't buy Sage's Ginseng any more, anyway…
And yes, I will try to get to the next set of exams in a more reasonable, saner way.
•••
Having had our student association party Friday night – which was fun, and four of us were announced as qualifying (tentatively) for moving on to the second half of studies – Saturday was quiet, laundry and recovery. In the evening, a brief drink with Barbara at an expensively chic bar in the Hauptbahnhof, before we both went off to do other things – we talked about what we want to do next, and – the tough question – where…
And then met Annick (who had saved me in exams, as we studied together), Jordie, Jim, John and Nada for dinner. (I'd already told Barbara I didn't want to eat at a sort of Swiss version of Denny's… which I thought should be called Denicqx's.)
At dinner a lot of talking, chatting, connecting, and generalized griping became somehow transformed into an intense and resonant conversation about meaning, expectation, and wisdom… Jim leading, which is no surprise (he has that endless Bay Area kindness, a patience I always envy, and deeply miss). I wish I could reproduce it for you, but I can't – one central move was the transformation of our views of the most difficult, least pleasant teaching analysts (as in an academic department, there are of course favorites and anti-favorites) when we see the possibility of what they're aiming us towards; and Jordie chiming in about experiences of real wisdom and clarity that lead you through whatever silly confusions you have gotten entangled in…
Sorry that I can't remember more details. Admittedly, I was shaking my head at some points, and Jim said to me, you don't think so? But I wasn't disagreeing: I was merely expressing my own perpetual doubt that I can remember what one needs to remember – that I can actually do what I absolutely agree one should do – that, after decades where I have known so many kind and wise people who have taken so much time with me, I am still so erratic, so unpredictable.
So – unindividuated. If there's such a word.
And yes, I know: these aspects of oneself always look far worse from the inside.
But the conversation was amazing: a sense of returning to wisdom, connectedness. Of fusing together a lot of material from seminars into something that mattered…
•••

And then tonight, Sunday night: I had spent three or four weeks cajoling students to come to the Zürich Opera with me, to see Der Rosenkavalier. I didn't speak to anyone who had heard it before, and selling a four-and-a-quarter-hour opera is fairly hard work. But finally Melissa, Anna, and Annick agreed – with some hedging – to go.
The first miracle was that, with our student cards, we were charged, not SFr 270,-, but SFr 20. We've had mineral water that cost more than that, and so were ecstatic – we were at the side of the orchestra, with a clear view of the stage (and subtitles, luckily). I'd explained the plot over drinks beforehand, so everyone was prepared for comedy and That Final Trio… as much as you can prepare, anyway. They were all ready to get into it – we were all thinking about passing time, love, change – couldn't help it really, frankly we all overidentified with all that stuff.
And the music was truly fantastic. The visual production was a bit silly; but the Baron was a hilarious deep bass, the strongest I've ever seen in the part; and Sophie had a magical way with the highest notes – the part has never seemed terribly interesting to me, but she was honestly fascinating. And the Marschallin and Octavian were magnificent – so the final trio was, well…
I told them about the New Yorker cartoon of the man in bed, his wife frowning at him from the door, and the caption – "I know the doctor said it was a cold, but just in case, can I hear the trio from Der Rosenkavalier one last time?..."
It was like that. Really.