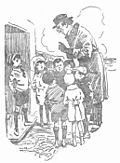 So work on articles and book has dribbled to – not quite nothing, but very little. And, caught on the prongs of guilt over not keeping up with my energetic co-editor, I find myself reading pointless comics (Hellblazer) and light books... in between bits of Improving Literature, such as Jungians on dream work and Boice on, well on not procrastinating.
Hmm. Where does this sense of myself as bad – wicked, careless, slothful, useless – come from so strongly? All embedded in the general context of endless reading, reading like stuffing my face with junk food, and being criticized for the addiction or indulgence it represents.
Admittedly, if I'm going to waste time, reading 
Hellblazer
is perhaps a bad idea, with its violence, darkness, cynicism and prevailing atmosphere of the general wickedness ascribed to both hell and heaven. That may be where I'm getting this strange resonance – as though my procrastination is tied to something in me that is all about feeling bad about myself. As though I can't work because I'm not
worth
doing the work, or something peculiar and not particularly sensible like that.
As though some stupid thing some adult said to me when I was young, or some misinterpreted situation from which I drew some neurotic conclusion, is running me....
Which is, of course, probably the case. Sigh. Onward....