And so, with various fussing and excitement and minor anxiety, and bringing a lot of medications related to digestive and allergic side effects, I boarded an airplane... and journeyed to the Fifth Continent.
•••
Not the world's fifth continent, but my fifth continent: I have lived and worked on North America, Asia, Oceania (if we define 'working' loosely – I did a few brief paid gigs during the year that I lived with John in Adelaide, though I wasn't legally supposed to work at all, plus the one in Wellington, which made me think it would be a pleasure to live there...), and of course Europe.
And I visited Cape Town only briefly, for a week in early August – but I will still count this as my fifth continent.
I have thought for a while that I ought to visit Jungian friends in São Paolo, or Buenos Aires, in order to get credit for a sixth continent – and give some kind of research seminar; and M. and R. have concocted a plan for all of us to vacation in Florianopolis in order to find me a Brasilian boyfriend. But I don't know if that will ever happen.
Oh, and as for the seventh continent: penguins are safe from me, to hell with Antarctica. White, cold, boring. Just like... oh, never mind.
•••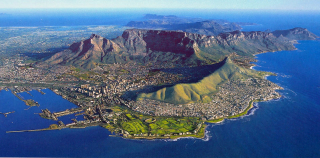 Cape Town: what is this place, then?
I can see why it is so loved, even in (their) midwinter: the hugely dramatic geography, the casually graceful beauty of the city scattered across the mountainside... there are echoes of Sydney, Wellington, Santa Cruz, Santa Barbara, New Orleans; someone else thinks it looks like San Francisco, and there is a lot of Amsterdam embedded in it. Dutchness, Englishness, and above all African-ness....
African-ness (yes, I know, a huge continent, interpreted through a brief look at a small city on its southern tip – sort of like figuring out Europe from spending a week in Palermo) does seem to spring out of things, to surprise me with facets I hadn't expected – details that wouldn't be picked up in panoramic photographs of cityscapes: there is more gold, more black, there are more rich and deep colours – when something is made to look luxurious it has a real and sensual sheen to it, colours and textures that speak of opulence, not merely of money. And in fact there may not be money behind it: flimsy architecture that is good enough for the weather (like the ramshackle houses of Venice Beach), but that glows in those deep shades....
(I think of the last few years traveling to Zürich – and is there any place as rich as Zürich? – but wealth there is all white and grey surfaces, jewellery that looks more like stainless steel than silver, the clean and restrained, the utilitarian. To have everything, and choose to live only with things that can easily be kept clean! – there isn't really a quality of wealth in its sensual or indulgent aspects, but merely a logically designed comfort: the abstract exchangeability of capitalism. There may be an aesthetics of political critique somewhere in that....)
•••
Transferring from one plane to another, at Schiphol: there are people speaking Dutch who don't look like the ones I'm accustomed to – tall, tan, golden with a slightly glorious, slightly discomfiting 'master race' quality. Among the most striking is a tall woman, directing her large, multi-generational clan with magisterial calm – golden hair swept up, assertive jewellery, white blouse and a long skirt with gold figuring – she decides and directs, and what are probably members of an extended family of different ages and wearing summery clothes respond in an obedient manner.
I think these must be the colonial cousins: of course many aspects of their appearance are just like the Dutch I know, but the robust, golden, glowing sheen and commanding mien makes them look – different: if I saw them out of context I would be mystified about their origins....
•••
The flight down, which is just under eleven hours – I've paid extra out of pocket for a better seat, but I haven't actually gone for first class. But the supposedly greater comfort of the seat quickly starts to fall apart: I am in a front row, therefore next to first class though clearly not in it; but the armrest is completely overwhelmed by a large bear of a man who, unavoidably, extends three or four inches across the seat backs on each side of him.
At first this feels as though it will be a tiresome misery: but as the hours continue, I realise it is utterly comfortable. This great bear is quiet, relaxed, warm, clean: it is not unlike sitting on a sofa with an extremely large and beloved dog leaning into you....
And, in the last two or three hours of the flight, as he and I finally start to talk about any- and everything, he is sweet, charming, intelligent: a (large) actor with his own improv company in London, who grew up in Cape Town but hasn't been there for years, who has just gotten married (if you lean very far forward you can see a small, dark-haired, clever and mildly sardonic English girl on the other side of him) and who decided to have their honeymoon in his old city, in order to show it to his new wife.
He is... how do we choose these words? Lovely, comfortable, a pleasure to meet? Not handsome, but not ugly: for a gay man who's comfortable with bears, he definitely suggests the guy you want to spend the next few decades with – he would be the quiet, easy-going one, who would look at the more animated, anxious one (me in this case) with relaxed and dependable amusement.
And he is truly interesting, charming, smart: director, actor, an imaginative...
Yes, I know: he's married.
•••
Of course, bound up with the experiences of the seat, the unending dullness of a long flight, the large animal comfort next to me, and the unusually elaborate meals clearly designed to distract us – foodstuffs and little plates and utensils which are, in fact, too complicated for us to easily reach and manage in the limited frames of these narrow seats – there is also discomfort....
I've increasingly had gut pains when sitting for long periods of time lately; I know that a long flight won't be fun. I do what I can to manage: frequent trips to the bathroom, eating a bit less – a balancing act that is fairly successful. It won't be until the endoscopy two weeks later that I will discover that I have a minor problem, of which the pain is a symptom. At this point I just try to survive....
But, yes: the calmness of the Great Bear next to me keeps me relaxed on this long flight, into the night of another hemisphere.
•••
When we finally arrive at about 11 pm, the airport is large, but now mostly empty; there is a lot of passport checking, and I wander around a bit too much, confused as to where the hotel taxi is going to wait for me. The entire series of spaces looks somewhat different than any airport I am accustomed to, with more references to wood and animals, and less chrome and white.
Nearer the entrance there are a number of men waiting with signs, several sets of halls and entrances – but I finally realise I must continue further; and I find my taxi, and am on my way.
•••
But it is also the dead of winter (just think: this is the equivalent of arriving in the last week of January – which does sound like a pretty terrible idea), and I'm not only a bit too anxious about my health and the long flight and all that, I'm simply not very sturdy. The first night I collapse into my upmarket hotel room (I have obviously been confused by prices – in Zürich this price would indicate a lower mid-range hotel, but here everything is gleaming marble, black and gold and silver, a huge bed and vast bathtub and double shower-bath), the air conditioning is on and I can't figure out how to turn it off; too tired to think about it, I fall into bed.
And by morning I am coughing and sneezing: I have caught the first of not one but two severe winter colds, and will see only fragments of Cape Town, of my first view of Africa, and of the conference, over eight days of coughing and snorting and sleeping....
Feh. Ah well. Things happen.
•••
I sleep in the next day, still relatively tired, a day early for the conference, and too relaxed to call some of the contacts that were given to me by Martin for local HIV/AIDS organisations; but I wander around and get my bearings, trying to grasp where I can walk alone and where I can't. Because Cape Town is, according to all reports, and according to the hotel concierge, riskier than other places I've been. I learn to make sure I stay in sight of the people – almost all of them guys, almost all of them black – wearing yellow work vests, who are stationed every block or so in the central bowl of the city to prevent crime, thefts, violence....
Dinner is at an Ethiopian restaurant: among other things to notice, a very different set of compromises between the African and the European, between the Muslim and the Christian. The low table, broad reed chair, the entire tabletop covered with a large platter of injera, the wats... I haven't had Ethiopian food for a long time, I used to love it in California. (I think briefly of a fairly kinky German guy in leather who visited me in L.A. in the 90s; he was upset at the lack of implements, at the implied food-sharing of the rolled injera, and I recall suggesting to him that his behaviour in bed was not consistent with his discomfort in the restaurant.) Here, so many aspects of luxury and the everyday are arranged differently than I expected, and it gives all the detail that sense of excitement that comes from traveling.
Near the end of my meal, a telephone message with Andrew, who is with a friend: they are eating at a Malaysian home-style restaurant not far away. I walk up the hill across small streets that remind me of beautiful small cities – sunshine, colourfully painted small houses – corners and edges and materials are more casually made, it is Wellington rather than San Francisco, Macau rather than Hong Kong. I remember noticing the sizes of Victorian houses in Wellington, and learning that, the further from London, the smaller the houses: because materials and transportation cost more at a distance from the center of Empire, and in tropical climates no one thought sturdiness was all that necessary.
•••
The Malaysian restaurant is run by a commandingly motherly older woman who tells us that she was on Master Chef – and that she won.
Andrew is with Amanda, a gentle blonde analyst from London who lived in South Africa for a time when she was young – we immediately hit it off, and I will end up wandering around the city with her after the delegates have all left.
The restaurant is large and shows its earlier history, possibly a former public space of some kind, up a steep hill; the food is somewhere between simple, direct, interesting, and unfamiliar, and there is no liquor. When their dinner is done and we have complimented the owner, we walk down the hill a couple of streets, negotiating areas with people and without, beggars we easily can walk away from and those who make it more difficult: there are those who have developed the most ruthless of techniques, a toneless repetition of desperate stories – there is no way to engage with it, and we don't have the thick skins to simply ignore its endless litany. We are all slightly shaken at the end of the last one – we clearly have some learning to do.
We end up in a stretch of what looks like a hipster area, in a row house that has been turned into a bar specialising in chic variations on gin. A casually stylish young man is behind the bar, and I go to order for the three of us; as I happen to hate the usual flavour of gin (why would anyone want to eat juniper berries?) I dither for a bit, and suddenly a tall, muscular, brassily masculine redhead starts to help me decide.
(And I'm not sure that wasn't why I volunteered to order and pay for all of us... I can't tell you whether I was being generous or not.)
Opinions, discussions, descriptions of gin flavours and qualities: the brand that looks interesting on the menu is on a high shelf, and the Hot Guy turns, puts one hand on my shoulder, and climbs onto the bar so that he can check out everything up there....
I think he may own the place, or work here, but I can't say that I care a great deal, as it is hard to focus on such trivial details in the presence of this man. They finally decide on what I'm to drink; there is back and forth about who is choosing and drinking what, and at one point a woman comes up and glues herself to the Hot Guy – she does have the sense to protect her property.
•••
(Are all my memories about watching, judging, or imagining men?... ah well. Enjoying travel by whatever means necessary.)
•••
(I like hipster places – it's always interesting how vindictive people get about them: self-definition and group identity by subtle/complex choices, unusual style mixtures, and especially facial hair all seem fun to me. And when earlier generations complain about trendy affectation, I can't help but think of, oh, say – Peter Max, Béjart, Cindy Lauper, Bret Easton Ellis – I mean, please: I still like art nouveau.)
•••
The conference is at a place called the Centre for the Book: a graceful neo-Palladian colonial building, a dome on top of a cube, small rooms in the partially separate corners, wood and stone in a lighter colonial style. Many people are very sweet; more than at most academic conferences, even more than the other Jungian conferences I've seen, there is a lot of friendliness. And it frequently goes past a slightly exaggerated social sweetness to real engagement and interesting conversations: as I wander, drugged with antihistamines, through the first night's wine reception, I have long conversations with four or five people, and they are all surprisingly engaged, interesting, intense.
But after that, I only show up for a part of each day, spending time coughing and sleeping in the huge bed....
My own session includes, unexpectedly, one of my own former analysts: Sybil gave her presentation just after mine. I'd forgotten that she was originally from South Africa, though not from Cape Town – she knows many of the local analysts, and is going to spend time traveling around, reconnecting with her own history. It's a pleasure to have her hear my paper, which is one of my heavily charged discussions of HIV/AIDS and existential/psychoanalytical experience. I'm getting braver, and my work is even more intense, and more interestingly grounded, than it was a few years ago – 
•••
On the last day, I am feeling somewhat more coherent, and am not coughing very much.
There is a remarkable session of philosophers talking about Deleuze and Jung – did I mention that this conference is not exactly for Jungian analysts, but more for Jungian scholars, with a lot of analysts scattered among them?... some astoundingly, potentially complex insights into time, death, awareness – some of the things Deleuze found interesting in Jung. I know there are cross-links to my writing about AIDS – I sit frowning intensely, trying to work out some meta-structures that are hard to track; when I ask a question the darkly handsome guy on the end, the doctoral candidate who created this session, says he knew from my face that I would have some complaint to make. But I am merely trying to connect these concepts to – to death, even to Deleuze's death....
I still need to hack my way through those notes: are any of the day's insights recoverable? I should do as effective colleagues do and make audio recordings of my thoughts as they happen.
•••
Later that morning, another recent PhD – a mature student near my age, a smart and talkative man with whom I've spent some time this week – gives a presentation where he explains the emotional incoherence of the resistance to Brexit. It is a strange paper, one that sits awkwardly in this crowd: he uses some distinctly selective statistics to show that foreigners are a problem in England, that the country needs to be free of responsibility for them. I am enraged – too much so to ask a question; most of the people who do comment express polite discomfort with his conclusions, but seem to take him seriously.
Not me. He has been a bit of a friend, and as he will be moving to Yorkshire he has already exchanged cards with me, suggesting that we get together and talk; but when we leave the session to go to lunch in the adjacent park, ten of us around a long table in the sunlight, I am visited by an archetypal figure that has become familiar in my own analysis, the spirit of Rhadamanthos, the Greek judge of the dead. I tell him calmly and coldly that his presentation was grotesque, unacceptable, an unethical twisting of statistics for quasi-racist purposes. He mounts a defence that is typical of him – he just wanted to try out a particular kind of argument, he wanted to see its effect on a Jungian audience: because he is not an analyst (and I wonder if he has ever been in any kind of counselling or therapy) – he has always been clever, manipulative, seeing people as mice he can make jump....
Which, I think, is actually the definition of a sociopath.
(A. later tells me that she was a student with him, and that he's always been like this: he loves spinning arguments, showing his ability to confound others, seeing how far he can push them, make them doubt themselves. And, even after I have spoken my piece, though no one else voices agreement, they all speak easily with me, as his end of the table is relatively quiet: I may have been dreadful, but I was clearly not shameful.)
After a few minutes I have been so coldly angry, so logically critical of him, that he finally falls quiet: but I am not at all sorry – this is not a fragile soul who is wounded by my ruthlessness: though he is actually embarrassed, for the first time ever that I have seen.
I don't think I will hear from him for a social occasion; and I throw out his card when I get back to the hotel.
•••
Sunday evening, Amanda and I decide to go to dinner with two of the younger conference participants, a man and a woman from the Bay Area: the plan is to go around the west flank of Table Mountain to the vast Atlantic beach and its suburbs. A taxi gets us there, winding down through beautiful terraced streets and houses that suggest Spain.
When we get to Sea Point, I realise everything has now become startlingly, precisely familiar: this is Laguna Beach, this is Newport Beach – this is obviously one of the casually wealthy beach cities that line the southern California coast. Wetsuits and surfboards, fashionable casual clothing, expensive cars....
except for the row of black children who are dancing and singing, asking for money. We are all a little guarded in the crowded street, with the different groups stepping quickly past each other – we aren't exactly sure how to negotiate the street that runs the length of the beach, without stoplights (again: southern California!), but we rush across individually: social cohesion disintegrates in the face of this long, wide, busy road.
The restaurant is subtly beautiful, open to the night air with heat lamps and remarkable fish dishes; we talk about San Francisco and Berkeley, about the singers and surfers. Both of the youngsters from the Bay Area describe their pleasant lives there: envy again on my side, but they are funny and lively, and I realise how much I miss hearing the California flavour of their banter.
The beach, the moon, the surfers and swimmers, the singers, the sea, the cars and bicycles.... even when we finally leave at about 10 pm, so that they can both catch their night flights, there is something nostalgically familiar about it all.... 
•••
On the day after the conference, most people are gone. Amanda is here, and she wants to go places and show me the city – which is extremely lucky: I am still not in great shape, and I probably wouldn't have done much if I were on my own, and then would have simply felt bored and unhappy about all that I'd missed.
We will meet at the waterfront: I get a beaten-up taxi, with some serious holes in the interior – but the driver is charming and safe, a gentle, friendly central African man who asks me what I have done on my visit, and is concerned that I have seen so little so far. When we arrive at the heavily guarded, gated entrance, I only have large notes – he asks the Chinese doorman for change, and they are luckily able to come to a satisfactory exchange.
But then a third man in uniform starts to write a ticket, because the taxi has stood too long. We get into a gentle, slightly confused, multi-dialect three-way argument – I keep saying: it's my fault, I didn't have change, it's my fault – and finally there will be no ticket, and he can leave, smiling again.
•••
A sense of the poverty, of the vast and terrible distance between the haves and have-nots: though this place reminds me of so many cities, it has sharper, more jagged edges in its past, recent and distant: the space between the lushness of the land and the terrible gaps in the way people are cared for, the refugees from places scattered across the continent –
beggars who repeat, endlessly, in the true tradition – something we don't often see in England or the west: the endless repetition of need, which is perpetually unanswerable. These are not beggars who smile or talk with you, they are disconnected, monotone: under their own condition of perpetually being in shock, they know the painful impact of droning repetition of need, they know how to create unanswerable guilt.
The men in camouflage jackets get between us and a beggar who has followed us for two long blocks – or at least they get physically between us: we have to weather our confused guilt on our own.
•••
Luxury: three times this week I have taken a bath in the vast marble bathtub, across the bath/shower area that takes up half of the large room. A really hot bath, which helps the cold, leaves me wiped out but calm, and I sleep deeply.
There are small cards in the bathroom about saving water; but I see those in every country, so....
•••
On Monday night, Amanda is having dinner with her hosts, so I go online to choose a nearby restaurant. The young woman at the concierge desk, who has richly braided hair and the unthinking acceptance of adulation shown by the seriously beautiful, examines Google's path on my phone and says, yes, you should be able to do that safely; but it has gotten dark, so you must stay on the path (it's like a fairy tale!) and the main lighted streets.
It is more a small hipster café than a restaurant; but there is an outside area with lights, wooden tables, and heat lamps, so I sit out there. A concrete barrier encloses this area, and other people sit at a few tables, including a couple who are giggling as they select a wine, and ask me where I'm from.
Above the barrier, which is about five feet high, and the frame it forms with the posts, is the street – sharply bright street lights at some distance from each other, on a moonless night, so alternating bright and dim. And the poor, the homeless, the begging: not a lot of them, but they appear at intervals – probably they work out territories among themselves. Unlike the homeless in cities I know, they are on the move, wandering or following people: a young South African couple crosses the street briskly to go into a brightly lit pub as someone follows them, plaintively telling a story of loss and poverty and desperation... they know not to look back.
••• 
When I return to the hotel the people who have been at the front desk this weekend are there; the big, quiet younger man is in a warmly talkative mood, as am I after a glass of wine. I say tomorrow it will rain, and he is very happy at that – I look surprised, as would be normal for anyone from England, but he enlarges on the drought, on how serious it has become. (I think with guilt of my baths, and decide there will be no more – and also that I won't confess to having taken them.) He tells me where he's from, asks why I'm here – I tell him about the conference, and he asks what I spoke about.
This is always a moment of vanity and anxiety: I tell him I'm HIV+ (I always wonder who will find that disgusting or peculiar, but generally people act as though I have shared something personal that actually sort of garners respect). He is very interested, and we talk for a while about all the things this can mean – he uses words like brave and strong, but I counter that nobody can be brave and strong all the time, we need to allow people to be scared and angry and confused... and he nods. When I say I was diagnosed in 1987, he laughs again – that is the year he was born; giving me a chance to be grandly condescending, as the older are to the younger (which of course covers up any residual envy of his youth and health).
As I prepare to go upstairs, he shakes my hand, twice: he is Joseph – then: well, he says, my name is Ilungu, which means I forgive three times, but not the fourth. Realising that I have been given a very real gift, I laugh and say: I promise I will be very, very careful about the fourth time. He laughs, too....
•••
Perhaps this is just for me, but – as I go up to my room I feel a sense of healing among the shreds of anxiety and guilt that have arisen around the city, the poverty, the races... and even all those damned baths.
 •••
[It is surprising how much I have written about that week, now nearly three months ago, when I thought I was too groggy to notice anything... and I'm not even finished. But I will post this part, and continue the rest later....]