So, Benjamin's late work!... well, not really.
Listening to Tippett string quartets on earphones (earbuds, headphones, headbutts, whatever).
Easy access to music of various times and moods, of high quality, doesn't really have such a long history: even in the 1970s LPs, and then cassettes and eventually CDs, represented only a small part of the musics that are now easily accessible.
So... if politics gets rougher...
Well, what I'm thinking is: rather obviously in, say, 1917, it might have been unusual to hear music that was blithely cheerful: recordings were rare, performers may not have chosen sunnier pieces that they would have sailed into five years before, and perhaps if they had played them there would be a bit more in the way of wistful slowing of tempi, etc.
And it wouldn't be so very different in, say, 1942, or perhaps in 1970.
•••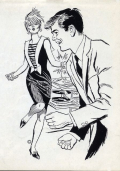 If things were to get rough for many people across a wide area, then... access to recordings of ecstatically searching music, like the Tippett 2nd quartet, might still be quite easy: would we hear music, watch digitally downloaded films, that were more cheerful than our surroundings?
And would that be a different experience – as though one could literally step out of one's own time into another, step out of dangers or troubles?...
Please note: I don't mean this as a Marxist or Adornoesque scolding, either – you can imagine Marx's scorn at the escapist bourgeois, or Adorno's scathing contempt for someone who is so weak that they step out away from engaging with cultural darkness.
Having not only our youth on CD, but also our feelings about it....
•••
But tomorrow I will be sixty. That's as in 'years old'. Quite astonishing really – bizarre to be one of the 'long-term dying' (that's a phrase I just coined, so consider it copyright).
And lately people are cheerful: my Friday class is smart and alert and engaged, friends are in lively moods....
We can ignore political problems and enjoy the now.
Which, it occurs to me, is what I shall demand for my birthday:
that my birthday present is: everyone must have a good Friday.
•••
Yes, I do mean all day........