My last exam, in analytic implications of fairy tales, passed – at least in this group: that is, four, of the eight for the first half of the training.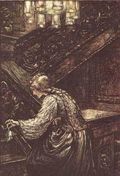 Dramatic: facing one of the most famous living analysts, a third-generation student of von Franz. The pleasant look – she likes me, we have talked – combined with the steely, focused intelligence: she is one of the toughest and most demanding members of the Institute, and her ability to work through complex processes is always remarkable.
My students will be gratified that I received only a 2 – in a context where 1 is excellent, and 4 a failure. But somehow, from her... I don't resent it: a shame it wasn't better, but I don't feel ill-used. It feels a bit like something to be proud of, to get a – what shall we call it, a C+? – from such a person. It is a kind if compliment, to be taken seriously.
I don't mind admitting that afterwards I was dazed: the hot day, the intense midafternoon exam, the sense of getting through hoops, perhaps of fire. My plan before the exam was to go straight to another seminar, but that seemed impossible – another student called after me but I ignored him, walking slowly toward the train station, in a sort of trance, as though needing to go lick my wounds somewhere.
About halfway there, I paused and thought: am I shocked, or embarrassed? A little, yes, but that was already fading under the sense of having held my ground through a terrifically complex labyrinth. A labyrinth not quite solved: but one where I didn't turn away, nor dither.
So I walked back: and under a barrage of: so are you done, how was it, what did she ask you?, I looked slightly glassy-eyed, giving monosyllabic answers.
Luckily, instead of a dense or information-heavy lecture, my next seminar was a distinctly feeling-oriented, creative (yes, you may use the phrase 'touchy-feely' if you prefer) response to masculinity. (Don't laugh.) It was an excellent context to deflate and write several pages – a mildly hallucinatory tale of... well, when I expand it I'll post it here.
The relief of getting to follow through on some complex feeling, a dense tangle of intuitions and internal reflections...
•••
A couple of hours later, as we ended an evening lecture, I managed to get attached to my wonderful group of Italians, with Thomas (from Munich) driving the car. Being somewhat clueless about international sports, it hadn't occurred to me that this was The Penultimate Game, the Big One between Italy and Germany... which we watched around a table at an Italian restaurant, with a variety of people arranged across the main room and the outside terrace. Well, I say "variety of people" – what I mean of course is Italians, Swiss and Germans. And yes, you could tell which were which...
A. was hypercharged, especially after the Italians got their first goal ("Vai! Vai!", both her hands forming the 'horns'). As one end of the table analyzed, discussed, dissected the game and its prospects, my end of the table talked about how the players looked... I thought the Italian coach looked a bit like Berlusconi, but was booed down.
Poor Thomas... he looked increasingly glum after the second Italian goal. Putting my hand on his shoulder, I said, oh, you know, it's just a game... but he said, no, you don't understand: I will get this from all the Italians for at least a week. His Italian girlfriend, an ex-ballet dancer, sent him a text at the end of the game, which basically said: This text isn't for you. Tell the Italians at the table: hurrah, and congratulations...
•••
When we left the restaurant, Thomas had recovered – mostly – but was still a bit subdued. One predictable complication to any group of people that includes either Thomas or Giovanni – or, as in this case, both – is that there is a strong tendency for everything to, rather chaotically, keep going, to walk halfway across town at midnight, talking volubly, to see another café, or another... whatever. An endlessly episodic plot structure; think Orlando Furioso, or the Arabian Nights.
So, although I expected to go home (it seems probable that I'm the official fuddy-duddy of the group), we stopped at a door on an industrial street and went in, with me in the rear asking where the hell were we going, and when I would get to bed...

It was a dance club: an old-fashioned, rather scruffy attic, but pleasant – with various dancers scattered around the dance floor, doing fiercely sensual tangos. Thomas was going to show us his increasingly highly developed tango technique with a variety of Swiss women – one an excellent dancer, one poor, one in between.
The fierce concentration, the blazing focus...