On Skype this evening, I was waiting for a prospective student to come online and tell me about a proposed project... he forgot or got the time wrong (this student keeps having trouble remembering which way the time zones run – I suggested he get a computer program to explain it to him...).
Hans-Rainer was online, as he often is, so I talked to him for a while. We traded war stories of past and current HIV treatments – he's had some really rough spots in the past couple of years, as have I; but we're both doing well at the moment. At one point he was waving his new medications, one after another, at the screen, a bit too fast for me to decipher the labels (Skype is not, alas, perfect).
As it happens, I really, really like Hans-Rainer – and I have ever since meeting him in 1994 in Berlin, when he was an ehemalige Ossi, boyishly excited that he could wear a leather jacket, and driving one of those East German cars he had had for years (if you could call it driving – it was like a tiny cardboard box of a car, and he would have to lean forward and keep it going almost by sheer tough willpower). During the year and a half I was an exchange student there, he would visit from time to time – and there would be entire weekends when, whatever we had planned to do – some fair or trip or something – we just wouldn't ever really get out of bed until he had to drive back home, an hour out in the country.
So, well, you see how it is.
And yes, I do keep wishing we could end up in the same place. I've even hinted... but that was at points when he had an on-again-off-again relationship with some boring guy who lived near him. (Admittedly I've never met this person – I just happen to know that this other guy is boring. Call it intuition.)
The picture is a bit old – we're both much grayer now – but you get the idea.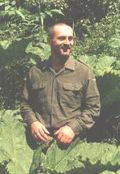 Now, Hans-Rainer is definitely aus dem Land. He's learned a good bit of English, and always makes a point of showing it off; but he is more comfortable in German – and it is definitely a country German; he'll often throw off some phrase or saying, and I'll have to stop him and get him to repeat it and, bit by bit, explain it. (Sometimes it's simply impossible to figure out – proverbs in foreign languages can be fairly incomprehensible; Lafferty made fun of that in his science fiction stories of the Camiroi, having an alien translation machine attempt to explain incomprehensible translations such as "It's that or pluck chickens", and finally giving up.) A fairly long process...
But this time, after a few explanations that involved getting up, walking around, and gesturing, I got it. The Rede itself was something like – excuse me if I've gotten this wrong, this is from memory, and I've probably got the cases wrong – "Das letzte Hemd hat keine Taschen."
Pause, rewind, wait, did you say Hemd?... okay... and I actually started to laugh as he was still gesturing about the Taschen. "The last shirt (that you wear) has no pocket (to keep money in)."
It's a more visceral, immediate country-German version of our own: 'You can't take it with you'.
...
I really shouldn't wait for Hans-Rainer, should I?...