(Hmm, when would I last have had to check the spelling of that word, two or three times just to make sure – even though I am now sure it always frets at me a bit. But not as much as it used to.)
Full moon, lunar eclipse, solar equinox, near Christmas.
After a few days up and down mixing my third (and I hope last) cold/virus of the first half of winter with the changing timing of medication side effects – and annoyed and a bit frustrated at those side effects: they aren't bad, but they're happening in ways I can't seem to plan for correctly – it's not so bad after the shot, it's not even the next day, it's about, oh, 36-40 hours later that I seem to become thoroughly useless, disoriented, exhausted. For a day maybe. Somewhat tricky, given that supposedly clever planning (Shots Are Scheduled For Friday Evenings – I should put that on a printed sign) suddenly make me fairly useless on Sunday/Monday, or perhaps unpredictably on Tuesday...
But I go on and on about that silly nonsense. (It will be annoying to figure out when I'll be up for Christmas at Michael and Andrew's, or Boxing Day at Bennett and Merrie's, depending on the timing of my meds. I feel like I'm saying to my body, oh just give me a date will you, while rolling my eyes in exasperation. And it's ignoring me.)
Nietzsche has always seemed a mildly interesting madman to me, a mere justification of (and by) all sorts of overblown, egocentric looniness for people who don't like anybody (and are undoubtedly secretly afraid that nobody likes them), who want to blow things up, who think they are innately better than others because they go and live in caves, or shout at crowds in city streets.
Oh, and he overwrites. And cheesily.
I've ordered Jung's massive Nietzsche seminar as my Christmas gift-to-myself – pricey but hey, it's fascinated me since seeing it on my analyst's bookshelves – and yes I mean the whole two-volume hardback thing, not the silly one-volume shortened edition. I mean really, if you're going to read Jung on Nietzsche, can you imagine anything more inappropriate than going for the Cliff Notes version?
(Perhaps Nietzsche was driven mad just by trying to get people to spell his name correctly.)
Nietzsche was of course the great breakthrough for his time, the great move towards a liberatory higher ground, away from the fiddly, tepid concerns of previous thinkers. Maybe in fact all analytical philosophy is an uncomfortable result of Nietzsche – he certainly did scare the heck out of people, and you can imagine them going for pointless language games just to escape his shadow. And of course many of the philosophers I hugely respect – from Adorno to Deleuze – exist only because of Nietzsche, because of the huge space he blasted through the bedrock of dull culture and its self-justification.
But he still seems so unreadably mad, so polemically, parabolically, allusively... oh you know what I mean.
Anyway. Of course Nietzsche had a huge impact on his time, on both Jung and Freud and everybody else; and in a way many of Jung's ideas have Nietzschean echoes to them (Red Book, anyone? – some madness, some self-aggrandizement, some fantasy). It should be fascinating, assuming it arrives in the next few days.
And there's a full moon tonight, yes and that solstice; and the Christmas-time sense of a grand pause to the solar year, as there is a great stillness in the heavens, and despite all the celebrations so many human things seem to pause and become quiet to look up, back, inwards.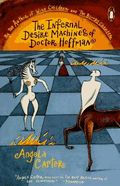 I've been rereading, again, Angela Carter's The War of Dreams (the American title of The Infernal Desire Machines of Doctor Hoffman – books retitled by publishers are often ridiculous, but I must admit in this case I prefer the revised version).
A grand book, a great book, one I have always loved – and always for me the most important of Carter's books, even though nobody seems to mention it much; it's pleasant to see that there's a new Penguin edition where the introduction agrees with me that it really is her best – apparently it did badly with the public and she retreated to slightly less bizarre writing for her later work. Since it's 3 am, and I'll be back in bed soon, I won't talk about it for long, but – I agree or identify with so many parts of the book, admittedly the earlier ones; and even the strangest or most symbolic of the later ones feel like stages of a journey I just haven't really gone far enough to experience.
One of the last sections is the intensely grand, physical, and dangerous time with the Centaurs, whose sheer inhuman intensity is threatening (as are many of the other places and people we fall or flee past in the book). And they are so Nietzschean – and they are so full-moon, so timeless and hieratic and intense and abhuman...
Well, I'll go back to bed. Because I'm merely human, because I'm tired after writing just these words, because even my Jungian moments (even, it seems at points, my inspiration to study to be an analyst) tend to be visionary rather than actionable, because I do indeed tend towards the trivial and irritable and the tame.
But that, on this moonlit night at the turning of the year, all this is certainly what it should all be about – the grandeur of intense and deeply real forces, the moon on the snow and the chill air, the pure sense of all time and space....