And so as the year winds down, so does my time here in Sitges. Some wandering around today, dinner with Chris tonight, perhaps wandering around to see what festivities are happening for New Year's Eve in this beach town; then tomorrow at midday a taxi comes, I go to the airport, and come home.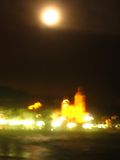 I am almost relieved, though I also wouldn't say I'm leaving any later, or earlier, than I needed to: as usual I am annoyed at missed opportunities, at not enjoying everything around me – but what was really needed was a break, a change; and two and a half weeks of, on the one hand, relaxing and eating with friends, and on the other just wandering around, has left me deeply refreshed. A good thing, too.
Today it is sunny; my first day without a jacket – perhaps I shall do more wandering around, more watching, and more talking...
Meanwhile, enjoy the end of this complex, sometimes stressful but often deeply interesting year. It seems almost superfluous to wonder what is next, or to bother with lists of resolutions – the wind has been rising for months, changes are floating around everywhere, and the best resolution seems to be the simple one of staying alert in a shifting, growing world....