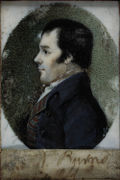 Not only is it Burns Night, but it's the 250th since his birth.
Years ago, my dear friend Katie Aronson, an actress and performance artist (and I wonder what she's doing now? a lovely, gentle woman with a sweet face, amazingly good at inspiring performances and getting grants written; she moved to Pittsburgh with her husband years ago), had a memorable answering machine message.
This was in the mid-1980s, when answering machines were still teetering on the border between innovation and standard, and many people had cute or coy or demanding or offhand messages that tried to encourage people to speak up. I think it was 1985 when my mother told me that she just couldn't talk to a machine... it was that kind of problem; an especially sensitive issue for someone like Katie, as actors and their ilk learned early that their jobs and careers could live or die over a message left.
Well, Katie's answering machine came right at you with a surprisingly brusque: "You know what to do so – do it." But she continued, in a gentler voice, with an increasingly rich Scottish accent as she went along: "But as this machine needs a thirty-second message, I shall fill the remaining time with the poetry of Robert Burns: Wee, sleekit, cow'rin', tim'rous beastie, / O, what a panic's in thy breastie! / Thou need na start awae sae hasty, / Wi' bickering brattle! / I wad laith to rin" [BEEEEEP]
Ah, the 80s.