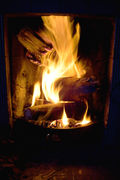 The chimney sweep came this afternoon...
a pleasant man in his fifties, indeed covered with soot, indeed with black brushes of various kinds. And even a blackened, grimy cloth to protect the carpet – although it didn't look as though it would protect much, he's clearly been doing this for years, as the room looked fine when he left.
I gave him a cup of tea, which seemed appreciated (the milk was really rice milk – I don't have real milk in the house, as I can't drink it – but I've learned long ago that you don't tell people that, you just pour it in). We chatted about various things – the only thing I forgot was to touch him (touch a sweep for luck, they used to say).
It was fascinating to hear him talking about fires, from the 1960s in this area – because the fire in the grate was the only way of heating the house, well into the 1970s; which is why there's no flue cover (the fire was always going in the winter). He talked about drying his football clothes after they'd been washed, and trying to keep them from getting scorch marks.
Of course, as an ardent (ex-) Californian, I shudder at the idea of depending on a fireplace – of banking the fire up in the morning to bring the room up from, say, the forties to the low sixties. But it's an impressive bit of personal history....