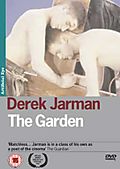 I've been watching Derek Jarman's The Garden (1990) in order to write about it for the book.
I wasn't looking forward to this, because I've conceived such an annoyed dislike for such films as
Sebastiane
and
War Requiem
– the glacial pace, the stiff acting, the cheesy tech. But I was immediately enchanted by this one – maybe I was brought in partly by the music, which is gorgeous, and by the textures and quality, which are considerably more polished than I'm used to in Jarman's work.
Maybe I need to see more of him.
Among watching are several phone calls, most of which suggest that I need to answer the phone less often: someone wants to chat, then someone else tells about some dreadful behavior by my least favorite UK academic (a nasty, small-minded, constantly hostile young man who teaches in the far South, and who has collided with me several times because we write some things on the same topics). Distracting; and stupid – I wanted for a while to call someone, perhaps Mitchell, to discuss being angry about it, then thought it would be better to simply let it go.
And, in fact, I'd like to let go of a lot of things: I keep thinking and dreaming of things that require some privacy, some quiet, and I'm not best pleased when the outside world invades. (Unless I go out to it, as I keep doing when I go out to cafés to work, or yesterday when I went to the first ever gay pride parade and fair here in Newcastle – which was fun.)
Isolation, a sense that people are irritating, difficult: anger is exhausting, people's needs are exhausting. A sense that I can concentrate on artistic and writerly things, on really thinking, on making and being aware – but I need more space, more time away from people and their needs (and television) than I have tended to have.
Risky, of course: since I complain so much of being alone too much, at this rate I'll become really, seriously, alone – ah well. Perhaps I'll have a clearer head.
***
Later: reading
Chroma
– one of Jarman's last diaries, which includes the text of
Blue
– I realize I am enjoying myself hugely. I really love
Blue
, also, though I've never seen it in (been trapped with other people in) a theater; I suspect I am coming to really like Jarman, and to like at least some of his work, having long disliked the few that I'd seen. This is really wonderful....
... But I still think Syberberg's
Parsifal
is a chore and a joke. And no, I don't feel like sitting down to watch my two DVDs of it to see if I'm right.
Don't confuse me with facts.