Reading in bed, electronic on an iPad, Tove Jansson's story collection Traveling Light. I was very happy when it, with the other recent ones – especially Fair Play – were translated by a small London publisher; my intense attachment to the Moomin books, especially the eerie late ones, and to my old, beaten-up copy of The Summer Book, told me that they would be wonderful. And they are.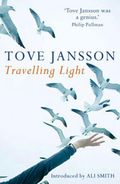 This is, as it happens, rereading; and the first story is not unfamiliar – I rediscover it; but I'm sleepy, and won't finish it, just enjoy the clarity of the writing in the first paragraphs.
But this story is attached to a memory of an interior – mostly light brown wood and half-shadows, a circular bank of windows, the ceiling a half-cone of slats: a restaurant which is nearly empty, where I am having a distinctly late dinner – where exactly is this place, Zürich or Bern, somewhere in northern England? Down in Totnes? Göteborg? Milan, or Parma?
Some place where I walked in and thought, isn't there a more normally crowded place, but realize that it's late enough that this is pretty much it. And they are pleasant – probably northern European then, businesslike, open to a certain hour, no question of closing early; and if I'm the only customer, or nearly the only one, they don't mind.
Light wood, slats, circular. Tables, all set; but it is past the summer holidays, and there won't be many more customers in the coming days, and evenings. Quiet and pleasant enough, a good dinner, and this book.
I don't know where it is, nor do I remember more detail – I am even unsure if it was not a dream: but I am comfortable inhabiting this memory of a large room....