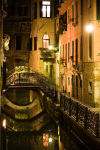 [Fragments for an unfinished novel, 1992-4]
Venice by Gondola
The sophisticated traveler will develop a passion for the dramatic curves of the great black gondolas, which seem to cut into the stone façades of this ancient city. But be ready for the high prices which, when transformed from millions, from billions of lira – lira like masses of insects, swarming, clawing – can be as much as ninety American dollars. A charming smile may help to bring these prices down; such smiles are easy when dealing with the stunningly handsome men who row these long, beautifully shaped boats. But the first-time visitor to Italy must be careful, be careful... Not really an argument, a subtle disagreement expressed through no common language, he didn't understand, he thought it was a promise but it was just an idea, and not even an idea formulated in my head: my body thought of it, the muscles of my thighs, and it flowered into a smile – my body refuses to recognize its own dangers, to recall its international epidemic status – Stepping onto the gondola itself requires a certain skill, even for the sturdy, well-prepared traveler whose arm is steadied by the powerful fingers, the intensely demanding grip of the gondolier. It is important to sit once one is in the gondola, so as not to tip the boat, not to rock, to fall into the black waters, sinking to the bottom of the canals where gold plates used only once by the great doges of this wealthy merchant city clink and are scratched by the stones, the gray stone that is everywhere. I cannot look into his eyes again, I don't know how to take back the body's invitation: how will I ever pay for this trip? The long sweep of the poles as they wave back and forth, creating triangles that diminish and expand with the water's reflections, are among the glories of this popular tourist attraction. Perhaps a penny beneath my tongue. When passing the great plaza of the cathedral of San Marcos, the attentive traveler will notice
_____
The fever is draining me, visibly reducing my visible presence, distilling my body into something sharper, more detailed. Perhaps gradually revealing that other body, the dark one that lies beneath, the one that is exactly marked with a widely known constellation of symptoms. Since I haven't done any work for days now, I must watch the projects pile up on my desk, the gradual proliferation of chaotic details delivered to my room by the answering machine, the mail. One project is very late: I must send letters to my various acquaintances and unmet connections, saying, I'm sorry, I'm not there on the continent, I'm not calling you or visiting you because I never arrived, I was sick instead of going to Europe, for the first time, ever. Instead of going to Europe, going to Europe, going to Europe.
•••
[Fontainebleau/Paris]
I was scheduled to give a lecture at the Château Fontainebleau, the summer music school just outside of Paris. Bart arranged it as a special favor; I was going to stay in his suite for the night – hoping that low rumors wouldn't follow me, as Bart is known for his predatory instincts – and then I would spend a few days in the exquisitely gray city. A friend supplied the addresses of city dwellers I might be able to stay with; their replies to my letters were subtly haughty, precisely but obliquely cutting with the fine edge of Parisian discourtesy: please tell us exactly what sort of establishments you would be interested in, or: we prefer visitors who can properly appreciate opera and ballet, or even: please send us a recent photograph.
But to walk alert, electric in the City of Lights, to stand under one of the great glass shopping arcades left over from the Third Republic, or to weave along the walls of a discotheque, marvelling at the subtly varied collection of cool, bored faces with high cheekbones and pouting lips. To hear the dense, poetic resonance of the language's sounds, that must be the best of all: listening alertly in a land where a simple request for directions sounds like one of Rimbaud's prose poems. Pretend that, on some quiet back street, it's possible to find the little girl lying dead behind the rose bushes, to touch her white forehead, then suddenly withdraw: and then it would all come clear, everything would be understood.
The truth is, I need to see Paris, especially because I can't imagine it: these clouds of surreal images, the long chains of alexandrines, just don't fit with the abstract chill of these photographs, where city buildings like huge granite symmetries mercilessly dominate the flowering trees, the filigreed iron fences of cafés. At one time, I wanted to visit Paris with someone else: David, perhaps, if we could have squeezed a few last romantic sensations from the drying gourd of our past. More recently I wanted Peter to take me: I would make him hold my arm with his great, blond hand, forcing him to act as though we're in love, since, of course, love must happen to any couple that travels to Paris. No, I can't see Paris, and I can't see us there.
It's easier to envision the château, the riches of the land more neatly contained for the pleasure of a single very rich personage. The great blue fountains and the vast gardens intricately carved like chessboards for alien cultures: triangles folded into hexagons into webs of great circles. And the Hall of Mirrors: haughty echoes of overblown gold fixtures reflected how many times? like an endless stasis experienced all at once. It must be a remarkable –
No, wait, I've made a mistake: that's Versailles, there's not a hall of mirrors at – so then what is at Fontainebleau? There must be a listing in the red Michelin book, the one with the beautiful leather covers.
No, nothing.
The other guides don't mention it. A slightly dizzy panic hits me: is the name misspelled, is the château in Belgium instead? I thought I would get to go to Paris, I thought it was all set up and all I had to do was pack. No, no, wait, I will say this much: I refuse to die before seeing Paris. I absolutely and categorically refuse.
•••
[Fever/Heat]
It's not the heat. It's something else. It's a lot of other things, and then the heat comes down on top of them, melting their edges together, welding them all. When I keep the room closed up the heat doesn't really get in –
No, that's not true. The heat starts here, it comes from me and goes into the thermometer, it comes from me and drenches the sheets, gives my body the ability, or the command, to lie without moving, calmly arranged as flesh modelled over the sweaty sheets, the dimensionalization of flat wetness up into the air. It all comes from me and flows down me like slow waterfalls. I'm generating the heat, I'm causing this wave of baking weather.
Actually, no: my condition is causing it, my diagnosis. But then it's also true that those who manage my condition, who make the diagnoses – really, the man who replaced my last doctor, he's a famous researcher, so big and classically handsome and also remarkably insensitive – they say, or he says, he and the tests say, they don't know what I've got at the moment although the general context, the viral condition that prefigures all my body's actions is probably author and creator of this fever, but the fever itself is nameless. It also has another characteristic of being nameless –
Give it up. Floating here among the damp white clouds of sheets, I can think whatever I want. Panic and irritation are attenuated, is that what I mean? that is certainly the right word, they are not lessened but they are strung out, vastly lengthened, so that in going from one stage of each emotion to the next there is a long, slow leap, as in a film where someone jumps the great gap between two crumbling, yellow cliffs, and the camera suddenly slows: you get to watch time happen. You can see what's coming because the next stage comes into view so slowly, so clearly articulated – the thoughts cross gracefully over: now I am moving from a quiet irritation sharpened with long-term fears into a subtler, slower phase of grief, grief which has little to do with anything happening here or now since it is really a mere side effect of the past, it's about someone else's illness. Later, staring deep into the ceiling, I will slowly leap from that old grief into pure sleepless presence, the kind of state that is most easily recognized when it is over –
No, I won't either: I suddenly hear the mail falling with a great scraping and clattering into the slot next to the front door. Stimulus and response: I can think about the probable bills, or I can choose to worry about projects unbegun. The mail may include yet another of the endless letters from Europe asking where am I, or giving instructions, not knowing I can't use them, and dates and places...
Yes, when I finally get up I will write back to all of them, although that may not be for a few more weeks. I can design the letter in my head: I'll say I have been ill, but then say that it wasn't serious, yet in such a way that no one will quite believe that. And perhaps for some of the haughtier business connections I should make some other excuse. I should say when I'm rescheduling the trip, but as I don't have any idea when that could be –
I must be charming, amusing so that they will still put up with me when I do arrive, when I need places to stay and to go; I'll start with something about how I'm doing, how the days are here, even the weather, I'll say: It's not the heat. It's a lot of other things, and the heat comes down on top of them, melting their edges together...
•••
[Avignon/Doctor]
[The itinerary is difficult to settle. Aside from the obvious cities – Paris, Amsterdam – and the personal favorites of my imagination – cool, bright Copenhagen, or the stone mysteries of Venice – I also want to visit Avignon, which has a particular resonance for me... I think that for most people it must be merely a part of the relaxed beauty of southern France, something not too expensive but near the Côte d'Azur; and of course, everybody has to remember the bridge...]
The clinic is so quiet today, I suspect I'm the only patient. My doctor is in a good mood and wants to hear what I'm doing, so of course I begin to talk about Europe, babbling away while he plays with his disposable needles and plastic bottles. He's enthusiastic, but becomes more so when I mention that I want to go to Avignon. He laughs and digs into his wallet, pulling out a handful of photographs. As he sorts through them, I can peer across his arm: there are various groupings that look like they might be families – so then he's not gay? Unless maybe he is, but there are other family members from –
He finds the one that he's searching for and holds it up, his bushy mustache quivering with suppressed laughter. I control my recurrent, and unfortunately inappropriate, desire to give him a hug, and look at the photo: it's of him standing on a broad stone pier, part of a larger structure, his hands waving and one foot in the air – best of all, utter glee on his round, cheerful face. "What's that supposed to be?" He shuffles the photos back together: "That's the bridge." I still don't get it. "At Avignon!" I start to laugh, remembering the children's song instinctively before I can translate the words in my head to explain what he's doing in the photo. His blustering laughter follows mine...
After he listens to my chest, his large, gentle hand on my shoulder, he goes out of the room, telling me to wait. He leaves the pile of photographs on the desk; I go through them and pick out the one taken on the bridge at Avignon: he is really such a thoroughly pleasant-looking man, so affectionate, I'd love to spend more time with him. I want to put my arm around his shoulders, talk animatedly – I didn't get to tell him why I want to go to Avignon, what my own Avignon looks like. The Palace of the Popes dominates the landscape, a vast stone building, acres dedicated to the grandeur of the ambiguous popes, the ones who weren't approved by Rome; [the French tourist board still does son et lumiére things on the vast walls after dark, red spotlights cutting across the black shadows of the towers.] Perhaps that's how I choose my favorite places, my favorite times: not in the search for great or noble art, and certainly not looking for junky monuments like the Eiffel Tower; but instead searching out the knots in history, the places where pleasure and fear were sharpest, the junctures where disaster loomed, and sometimes fell.
The Palace, a glittering, arrogant, impossible place: teetering on the brink of Hell, the playground of schismatics and their flatterers. [That part of France had been wealthy two centuries earlier, a flowering of complex poetry in Provençal, a language that is no longer written; they say women ran businesses, proud, well-educated women; but all of that was wiped out in the civil crusades... So the people of the countryside must have had a dim recollection of wealth and power, they must have been so excited to see it return, even if in such a local fashion. Vast wealth poured through the Palace and the town for much of the fourteenth century, money and plague germs, and the subtly profound poisons of cultural collapse. The hedonism, the enjoyment of complex passions, you can hear it in the bizarre music of the time.... It must have felt so strange, waiting from month to month over – how many years? – for the news from Rome, or from the battlefield: has it been decided, are we under a Pope or an anti-pope? Heaven or hell, instant answers for everyone, at least when they would finally arrive.] I want to walk those corridors, blasted by centuries into bare stone, and try to discern in the long curves and sudden angles of the buildings that subtler art of sensuality on the brink, cryptic laughter while death lies in the next room...
The doctor comes back into the room to tell me my new T-cell count, and to explain why it doesn't really mean anything, and why I shouldn't worry. I'm still holding the photo; as he is turned toward the sink, washing his hands – and what did he do, was touching me anything, that he has to wash his hands? – I slip the photo into my backpack, almost without thinking. On the way out, I ignore my backpack, not opening it for anything, no one will see what I took, I won't open it until I get home, shut the door, pull the shades.
•••
Dear William:
Thanks for your cards. I particularly like the one you sent from Florence, but it didn't say on the back where the statue was. I don't know what Hercules might have done with Cacus (and who was he anyway?) but they look awfully friendly... well, you're right, it's a beautiful statue, very erotic. You're lucky to get to see it up close, so don't complain about the crowds.
I don't know when, or if, this will reach you – depending on the Italian mail system is probably a mistake, and I know you're off to Prague on Monday. Probably this will fall into a drawer at the hotel, you'll never come back and they'll ignore it, the edges drying out and fading until some old woman peers at it and tosses it into the trash... imagine: my letter thrown into a can of Italian trash, shiny chocolate wrappers with the ingredients listed in the Tuscan dialect, worn-out shoes in fine, thin leather, all covered with lots of marble dust.
Yes, I'm very sorry I didn't get to go, too. The whole money thing just got too complicated, I was trying to turn out a script every week and I've never done that before. When I was handed the Wagner project, it was like hitting a stone wall – or like hitting the side of a stone castle, one of those Bavarian things of Ludwig's. I totally freaked on the third night, went for a walk at four a.m. up north of me, past Santa Monica into the nice-ish houses in that part of West Holly and thought about Wagner and What He Means to Me. Didn't really think about it, it was more of a slow-motion fit, I remembered the time when I was a Wagnerite, a perfect or real one; I was sixteen I think, I bought the entire Ring cycle – you may remember, if you cared at all in the mid-70s, that Solti recording, it was the first complete one I think. I played it with my best friend (who collected snakes and spiders, but was kind of cute), and we talked about everything. Well actually: not about feelings, or about sex in any way – but, I know it was a very intense and very confused/ing time.
Sorry, what am I dithering about? No more rambling. The doctor says I'm fine really, this fever is nothing in particular. Actually, he has no idea what it might be, but he seems to think that's good – they've tested for everything (some very messy blood tests by tired phlebotomists – see there and I spelled it right too).
I haven't checked your mail, and I assume Putz is okay in the kennel. If I get dressed and out of the house this week, I'll make sure they're doing everything as promised. If you don't get this letter, you're probably wondering what's up. Of course, you can't expect to just leave a beloved pet behind for six weeks and not run into any sorts of problems – actually, I'm not too wild about my kennel. But it seems as though some people, so many people I know, get to go to Europe so easily, as though they would go to Club Med, they come back and tell me all about the food and the bathrooms and fuss about it all. I don't mean you would do that, of course, I just mean this is rather strange for me.
I'm going to take some aspirin now. Make sure you take lots of pictures and send me some more postcards – and if you don't get this, I'll try to remember and tell you everything when you come back – if I remember – if any of it matters at all – or if any of it seems at all interesting to you, after you've been in Europe for six weeks!
Hope you're enjoying yourself,
P.
•••
[Library/books]
Considering their endless complaints about space (and money, and patrons), it seems odd that the library would have this vast lobby, a nearly empty foyer fashioned in cliches of chrome and glass. I shouldn't have worn these boots, they squeak no matter what I do. Crossing that vast marble floor, or perhaps it's just granite: marble is for the really wealthy, or for classic European buildings erected before the rise of the bourgeoisie... the squeaking is particularly annoying because it's not a matter of the boots being too new – they must be a decade old, Frye boots bought at the end of the seventies, at the very end of the time when they were stylish. By an effort of will I ignore the sharp, regularly spaced noises I am producing and steer towards the reference desk, which is barricaded behind rather intensely innocuous electronic pillars. Behind the desk, a large, blonde woman with a pleasantly round face is watching, or perhaps listening to, my progress...
I ask her if it might be possible to look through the section on travel, countries, languages and such. Certainly, she says, do you have a particular country in mind? I guess that Europe would sound too vague, so I say: well, how about – Finland? I must have sounded too jovial or odd, somehow, she looks at me with suspicion, as though wondering if I'm making fun of her. Before I can speak, reassure her of the seriousness of my desire to examine anything on Finland that she might have available, she turns away towards her computer screen. Waiting, I settle into a dark green fabric chair and look around at quiet people arranged around formica tables, happily separated from each other by rows of identically bound reference works. When she turns back to me, it is to give me a present: a flimsy printout, a list of titles and call numbers under the heading: Finland. She turns briskly back to her terminal, avoiding any further or unnecessary contact.
The elevator ride is short and flattened in affect: beige and dirty chrome form the complete universe and all its details. When the doors trundle open at the fifth floor, though, the sensuality, the richness of the space flowers outwards: entering the green-blue depths, I step out between shelves filled with books, books filled with such rich, far-off tongues: umlauts and accent aigules glittering in gold on leather spines, or neatly sans serif on contemporary paperbacks... I cannot resist, I slowly, gently reach out to touch a large book with a title in some impossible pseudo-Cyrillic language, and caress its spine...
•••
[Fever/cold]
On a blank sheet of paper, draw a line down the middle. On one side write 'feed a,' then drop down a space and write 'starve a.' On the other side of the line write, similarly, 'cold' and 'fever.'
I can never remember the correct matching of these terms, the original form of the sort of proverb one snatches for in the twisting, endless depths of an illness that has gone on too long. The great armature of medicine lies outside this experience, metallic and huge, but ineffective in helping one to try to cross from moment to moment, the space between the realization that the pain is eased when you turn onto your left side with your legs scissored slightly apart, and the return of that pain in a modified but no more acceptable form a second, a few seconds, later. The length of seconds is called into question, also.
The day is so remarkably, if dimly, beautiful – the cab driver who took me home from the clinic yesterday, chatting, happily driving while leaning half out of his window, said: hey, it's really gorgeous. I had that slightly painful sensation of missing out again, of being trapped in the dim grey wrappings of illness while the real world is having great fun just outside, just down the street. But no, lying in bed, not having to do anything, I can see it quietly now, there are such beautiful trees and ivy outside my bedroom windows, and the mild wind keeps it all in that stirred, more vivid state: nature presented in its more organic, more chaotic, form, which is always so comforting because human control is shown to be both impossible and unecessary.
Starve a cold, feed a fever. Now one of the problems of managing this distinction is that, as is not often enough pointed out, when you have a cold, you have a fever. So which were those old wives talking about? There are fevers without colds, of course. The fevers of various infections, like the one blazing sharply across that strange triangle over my left hip – why should that triangle be so clearly articulated, doesn't that suggest something very specific must be wrong? – or the many others, earaches when I was a child, even certain respiratory infections that are nevertheless clearly not colds. So we can deduce that the class of illnesses named colds, identified however they are – I suppose congestion, coughing, etc. – are set apart from all other fevers, which are then distinguished from such colds under the general name of 'fevers.'
No, that doesn't seem quite right to me, either.
There seem to be so many zones to be concerned about: a vast series of different spaces, problems, solutions, things to be done, all intersecting in a highly randomized space, one generated by various desires and promises, but a space whose coordinates cannot be resolved under a single system. To start simply: my feet are cold. They are, at the moment, the only part of me that is cold, in thick cotton socks, under the soft farm-made blanket given to me a few months ago; if I could get up, of course, I would add the wool afghan over my legs, and that might solve the problem. But the rest of me is, at the moment, rather comfortable; if I don't move, nothing very painful happens. A pleasant stasis holds me, allowing me to really listen to the leaves on the shutters...
'Feed a fever:' you know, that really must be wrong, the proverb would never put the two assonant words on one side of the equation, the whole proverb would collapse, overbalanced. Loud buzzing, varying rapidly in volumes and approximate pitch, plows across the room, cutting through the sounds of the breeze and leaves: I believe that must be my third fly in two days. One of them left, miraculously, by itself; one I batted out of the air in a rage, while I was tired and barely able to stand at the bathroom sink, then stared in astonishment: without my glasses and hardly able to lift a glass, I had nevertheless managed to knock the damned thing to the ground. I grabbed a tissue and smashed at that fly, this is the second one we're still on, noticing and trying not to notice the small blob of yellow gunk that came out of it as I dropped the whole mess in the trash. Although similar gunks are unpleasantly familiar from the past few days, after the strange products of coughing flung into the sink, after the rows of various specimens at the doctor's.
The tiring, distancing part of all of the different zones is not, of course, the spatial one mentioned above: the calm awareness and adjustment around what parts of the body are comfortable, what parts are not, is merely a problem in extremely local management – although, okay, I admit, Monday night and the two nights before, at the peak of all this week's fevers and aches, the problems seemed terrifying in the intensity and unsolvability – but now, during the day, it's not all that hard. And the spatial understanding of the things I need to do, mostly, gratifyingly enough, in the other room, nearly out of sight – yes, those are worrisome, but only if I focus on them; it is clear that I'm not capable of doing anything about them today, and making the big decisions, telling the landlord, surviving the ensuing explosions, those are all things I can't do today anyway.
But the temporal zones, the divisions in time, are much more frightening: not easily delineated end to end, they form great but fuzzy rectangles containing chunks of my life. I cannot manage any of them from this bed, of course not, but, how can I explain this? The panic comes from knowing how many zones there are, and seeing how unpredictable the universe's general support for them is. It's sort of like, the network of relationships around getting out of bed, clutching across my chest with both arms to hold it together in one piece against the storm of coughs, moving a few yards to the bathroom, choosing the aspirin or antihistamine or Tylenol and performing the correct operations with them – those are complex but visible relationships, and I can tell when I am finished, when I can turn back towards the bed, or when something goes wrong, when the thermometer is broken on the tile floor. But my bigger promises, the things I must present soon that aren't even written, the things I've promised to write that aren't started – and will I have to move everything into storage, where am I going to live? I don't know what to do with all of those.
If we agree that 'feed a fever' must be wrong, then it must be 'feed a cold, starve a fever.' But the particular network of aches of shifting temperatures that has me glued to the bed is the flu, plus that other annoying, painful infection; does the flu count as a cold or fever? I can't put it together – the distance between what I'm trying to figure out now and its roots is too great, I can't hold the whole thing in my buzzing head – it's like doing sums in your head but there are too many of them, you can't remember if you rounded up or made a mistake, and the whole thing falls apart. Speaking of buzzing, that fly – did we say this was the third fly? yes – has left. All on its own. Leaving behind the lovely, shimmering system of green leaves, trees, the wind pulling them apart and pushing them together, and the quiet spiders who have lived in the space between the shutters and the windows since long before I ever rented this place. They make me a mere day-tripper, a renter, they won't even notice when I'm gone. The ease, the pleasure, that is right around the corner, if only I can get there, get to it: of lying here and not worrying, because there is nothing at all that I can do about anything, at this moment: the freedom of giving up, the relaxation of hands that are tightly bound...
•••
[Dream/de Falla]
Carefully handling the LP – how quickly we lose our habitual skills, when they become outdated – I drop (no, place) the needle onto the beginning of the record: de Falla's Nights in the Castles of Spain, the tangled, eerie impressionistic pictures of deserted castle gardens, midnight towers. But it's disconcerting when the record begins with some sort of announcer's voice, interrupted by bursts of applause, bravos, even catcalls: And now, in the celeberated recording series produced with money donated by Mrs. Dorothy Empfandingskeit, we present de Falla's Nights in the Castles of Spain in the original version for two pianos and percussion. To my irritated disbelief, he keeps chattering as the pianos begin, but the music seems very strange and intense, tightly wound ornaments and repeated notes overdetermining a simple tune: I read the score with its dense tangle of small notes over this thing descending from D to A, but that sounds wrong, it sounds like a fifth, it should read E to A – and after about eight bars...
I awake, the room hot and confusing, air held in place, holding me down. The heating system must have gone on, with a vengence, I'm still feeling very strange, sick and confused, confused about being sick. Fever maybe, headache for certain, now what the heck was that thing, that dream of Nights in the Castles of Spain? That should be 'gardens,' besides Nights in the Gardens of Spain is for what, piano and orchestra, or maybe piano and chamber orchestra, there's no two-piano version. Percussion – was that a Hammond organ joining the pianos on that melody, grotesque, Weill-ian? I have to transcribe this somehow, D's next to each other and practically overlapping, tiny mordents – but the computer music program is too foreign, it's been several months since I brought it up, I can't remember how to use it; and it's not made for this tangled, immediate density anyway, it's only happy with clear melodies notated clearly. When I finally give up, I've got some tune sketched out, and space for two pianos and percussion – I can't remember what this tune is, it's some sort of standard schlocky Franco-Spainiana, and it's definitely not de Falla...
•••
[I had, of course, various ideas to work through the plot, the body of the novel – and various frustrations with those ideas. But, at least for now, this is a two-part draft of the ending.]
[Dream ending/Venice]
I come back every day to the pensione, looking for a letter: he should have joined me here by now. He is evidently delayed; the days pass pleasantly, but I am still impatient. For some reason, I seem to be having difficulty remembering the color of his hair: the picture in my head shimmers, and I can't remember if it is blond, a goldish color, or a sort of red-brown: and does he have a beard or not? I got so tired, so fragile, like some British Victorian type with neuralgia, before coming here, I probably just need to rest. But the people are friendly, their dark eyes become merry in response to my blundering questions. Outside my hotel, I can look deep into the canal – and perhaps it's the weather, or some optical illusion, but the water seems clearer than it did at first, a deep blue with glints far away. And the water seems slightly lower, as though Venice is slowly, gently, rising out of the sea, moving towards the sun, drying out just a tiny bit, to save itself for future centuries. Botticelli might have drawn a great seashell to hold... no, it could never be large enough.
This morning, at the little stone church next to my pensione, there were two young artists, or perhaps more accurately restorers, working on the wall frescoes: a minor Last Judgment from the sixteenth century. The girl is always serious, her vast brown eyes and mussed hair contained in an austere but gentle expression of concentration; but the boy laughs and gestures, he speaks to her in rapid-fire sentences which must be jokes, to which she responds with a brief, absent smile. While I was standing, watching, he turned away from repainting a brown tangle of muscular bodies, caught my eye, and, winking, grinned: I looked at the painting to calm my heartbeat, amused in spite of myself, and could see that the blessed spirits already shone with more gold, and the damned ones had a certain passion, a life they didn't have before: as though they mattered more, as though they meant something important. Even the edges of the plaster seemed less dilapidated, less old. I tried to say something about how fine they looked: "Che bella, che..." but then I stuck there, and I wasn't quite sure of the gender anyway, so I simply gestured towards the wall. He suddenly looked serious and proud, and he burst into a long, tangled paragraph of Venetian dialect. I really must work on my Italian more; I'll spend evenings reading the phrasebook, although it might not help much with Venetian. When I left the church, it seemed as though parts of the wooden door frame had been replaced, and so well that it was as though they'd never been missing: everything looks newer, a little sharper...
The days all so pleasant, drifting, but at night I can't get away from these tiresome dreams: beds, plastic tubes, and the feeling that I can hardly breathe. Sometimes, just before I open my eyes, my bed seems wet, soaked with greenish canal water, and then I really wake up and it's not true. [Nightmares left over from those miserable days when I was so sick, before it all went away and I came here...] Tomorrow I'll cross to the Giudecca; that should be fun, although it would be more fun if I weren't alone... I hope he gets here soon; I keep thinking of all the things I want to show him. But I suppose I can wait, with the days so gloriously warm, the cool nights listening to the lapping water, distant calls echoing from boat to boat...
•••
[When the narrator has actually reached Europe, things start to go wrong: his friend vanishes, then reappears to announce he's going back to America; the money starts to run low, and he still hasn't seen Paris. And he starts to have fevers, high fevers that won't go away; with a railpass and a credit card, he gets on a train to Paris, only to wake up ill with the train empty, stopped in a northern French city. Going in and out of coherent states, he decides to continue to the west coast of Ireland, the last land in Europe before the sea... but the dreams drift and confuse, visions of Paris give way to his original dreams of Venice, overlaid with the illusion of having actually made it to Ireland, all interspersed with brief flashes of realization of where he really is – wherever that is.]

night blazing hot, the crawl of sweat across my chest soaking into cotton, I half-turn, bang against the bars again, vast sharp sun pouring down on my chest, my feet in shadow, freezing. pains like a wave, I fall to my knees beside the canal barely able to breathe, holding on and not moving, roaring in my head, in my ears. it passes slowly, I relax and look up into the blazing air at fluorescent bars of light, feel the pulling plastic binding my wrist... hitchhike west from Dublin, ride, walk through deep green fields all the way across to Galway, take a ferry to the last island, the island of Connemara. look west: heather beaten down, ridge of rock, then deep frozen waters, blackblue to the horizon, walking, half-falling across long grass, down the hill, the end of all the land, broad waves whiten on impact – no, another, ach, ripping across the chest, grab ribs, hold together, tape twisting off my arm – rigid – holding, holding, can't – rushing footsteps – and it crashes on the rocks, to bits, hold my head trembling, face half in sand... long long breath... and out... sharp light through lids, pale blue fluoresces, try to squeeze tighter – yes, okay. now. back to – gondolas, soft stone: but the light strange, so bleak – everybody is here, like they just ran out, by the lagoon, what are we waiting for? – look up, out to the ocean past Giudecca, a tall blueness, higher than, gradually seeing: it's a wave, huge wave, we are all watching as it moves towards us, stately but so rapidly, thunder, blazing deep blue – can't remember where, the color of his – all watch, open-mouthed, frozen, roaring wave now above us tilts – and forward – I reach out and grab his hand to steady our

[Los Angeles, San Francisco, Kiel, Irvine, 6/16/92-11/27/94]