So, while I was supposed to be doing something else, Eve Forrest generated some ideas on Facebook...
and that made me do this. (Ha! 'made' - like she forced me into it...)
Which house did the Sorting Hat put various philosophers and cultural thinkers into?
***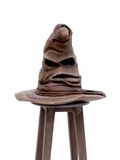 The List.
Griffendor
Hegel
Foucault
Jung
Socrates
Cicero
Aquinas
Newton
Goethe
Martin Luther King
Barthes
Seneca
Umberto Eco
Koestler
Giordano Bruno
McLuhan

Slytherin
Adorno
Zizek
Freud
Baudrillard
Eagleton
Lacan
F R Leavis
Kristeva
Plato
John Calvin
Nietzsche
Fourier
Bataille
Kierkegaard
Marx
Sartre


Ravenclaw
Butler
Langer
Althusser
Derrida
Fanon
Said
Kosofsky Sedgwick
Badiou
Sontag
Buddha
Descartes
Rousseau
Kant
Trotsky
Beauvoir
Lyotard
Camus

Hufflepuff
Benjamin
Deleuze
Merleau-Ponty
Husserl
Carl Rogers
Horkheimer
Bachelard
Ouspensky
William James
Aristotle
Erasmus
Lao Tzu
Heraclitus
Meister Eckhart
Berkeley
Habermas
***
On reflection I think Hume is in Ravenclaw.
And I forgot Heidegger! Clearly Hufflepuff. Though some thought he was in Slytherin...
Yes, I shall get back to work now.