An addendum to my previous post – because I don't want to be unfair to the theater company Propeller:
• I assumed it was obvious in any case that my mood/attitude in that post affected by my judgment of their Comedy of Errors. (Plus my judgment of the play itself, which I still think is... well not up to S.'s best. 'Could do better'...)
• Tonight we went to see A Midsummer Night's Dream – much more a favorite play of mine anyway – and it was much, much, much better. (Still spoken very fast, but I think a lot of troupes do that to Shakespeare these days – the inevitable cost of linguistic/cultural change.) In fact, at a number of subtle points, it was really wonderful – so my thanks to them.
• Many excellent players, but note – great Titania, wonderful mechanicals, great Helena... and: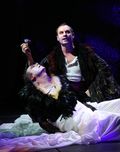 • the actor who seemed intensely sexy to me in briefer roles in The Comedy of Errors was even more so as an open-shirted, barefoot Oberon in the Dream. Some people are just, essentially and remarkably, hot.... a shame he didn't come to the bar afterwards. Ah well.
We did, afterwards, go to a trendy bar – then to the gay bars, where I haven't been in, oh let's see... several years I guess. At first we went to places that were too loud and too young and too straight – then finally we all managed to agree to go to the (sort of) leather bar, which was  considerably more relaxed and pleasant.
Of course the entire concept of meeting someone I like did cross my mind....
But that's all right; I'm home now, and will quietly go to bed.