Astounding, last night, to discover: there are e-books, well-edited, clean and professional, of both the great James McCourt's amazing Mawrdew Czgowchwz and the great Hermann Broch's amazing The Death of Virgil.
If these two are available, then... no real barriers remain. Everything is changing, utterly...
(I'm not worried about Finnegans Wake – despite a lifelong attachment to Joyce, I really can't stand experimental spelling; I am satisfied that I'll never get into Riddley Walker or Feersum Endjinn either. Not without a brain transplant.)

I envision a future – the same one I aspire to in studying at the Jung-Institut; the one I hope my medications will continue to make possible, perhaps in four or five or six years – where I move into a spacious, sunny flat in a quiet, pleasant outer neighborhood of a sunny Mediterranean city, to set up life as an independent analyst. And of course I will have brought my books, which will need to be set in bookcases across the walls.
But perhaps then there will be fewer of them – distinctly fewer, which would make moving less miserable – and then, fewer every year... because I will have them all, but in their virtual, elegant, exquisitely weightless new avatars.
•••
Of many stories about books, here are two – one for each of these great and bizarre books.
When I discovered The Death of Virgil, I thought it was the most amazing thing I'd ever seen: the extraordinarily beautiful edition with its clean design and classically dignified dark blue colors from San Francisco's North Point Press, known for their taste and attention to detail; the dense, resonant sentences that build into paragraphs that go on for many pages; the intricate but constantly alive interweaving of Virgil observing everything around him, of the sea and Sicily and smells and sights, of the alternately resigned and feverish viewing of death, of the dizzy experience of illness, of the living bustling around him above and below decks, of his great not-quite-finished manuscript, his life work, in a wooden chest....
But it was 1983, and I really did not have the skills to read the book. That year Reid died in December, and AIDS started to collide with my life like a vast, slowly tilting granite tomb, crushing and changing everything. I still lived in that beautiful San Francisco apartment, my first and best, the studio with the quiet garden; that life was already being torn apart, though I didn't know it yet.

I wanted to read this book, but it was very, very hard to remember what was going on – sentences, pages, would be incredibly beautiful; but I would keep moving onward through the first long section, with its endless waves and the roll of the boat, and realize after a while that I could not remember anything I'd read, or be sure what was going on now. In some expectation that bulling through would enable me to retrospectively understand, I set myself a goal of ten pages a night, after I'd gotten into bed – but no, even though the bookmark was moving onward, it was clear after a week or two that I was lost and without a rudder. Not unpleasantly lost: the sentences, the images were beautiful; but I had no idea what they were talking about....
It is a pleasure to see that, as the person I am now, I can read this much more easily. Perhaps after my exams in June, I will settle into it for a while, and see how far I get....
(It is also interesting to reflect on a comment I made to Melinda and Ashley, in the hall outside Infectious Diseases at the hospital: I told them that, since my stroke in 2009 and subsequent recovery, my head seems clearer – it is as though the disintegration of some connections, or perhaps complexes, has made it easier to think clearly, logically. [Hmm, is it slightly risky to talk to a clinical psychologist and a doctor – when they have both worked with me and, as it were, on me – about changes in my mental processing? Oh well, it's not as though I'm private about these things.] Admittedly digging into studying at the Jung-Instititut, and reading as challenging work again, has probably made me more alert – but I honestly think I understand more, and more easily, than I did a decade or so ago. Of course it's also caused me to write longer and longer sentences, and even, at my most annoying, to create nested parentheses... oh well, we'll all just have to deal with that.)
And how could I forget Barraqué's attachment to this book, and the works he composed on it? But, to be honest, his text-based works haven't caught my ear as much as I've hoped. Perhaps I'll try again some time.
•••
Then, a lighter, happier story. [Whew, I hear you say.]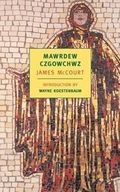 I must have been reading Mawrdew Czgowchwz at some point after 1976, and before 1979; I know it was Jim McCalla, the U.Va. professor who spent the most time encouraging me, who told me to read it. The book was also nearly too hard for me at the time, but it was a lot more hilarious than Broch of course; and I hammered my way through complex satirical sentences with complex satirical scenes of rich New Yorkers, operamanes, Italian restaurants and dressing rooms, gradually getting better at enjoying the demented hilarity of what must be the best book ever written about opera.
(It was a pleasure, a few years ago, to realize McCourt had published, especially recently, several other books – which shows our widening cultural respect for the complex and the campy... I haven't read most of them yet, but I will; perhaps in that leisure time when I have reached the next stage of my life/career.)
I was at home in northern Virginia; a warm summer afternoon, reading on the couch; my father, of course still alive so long ago, sitting nearby in a large chair. At the halfway point of the book, the first great climax: Mawrdew is making her great debut as Isolde, among the brilliant and famous, the tensions and ambitions of the artists, and many levels of deep identification with that Irish princess. The stress is telling: so when she disappears between the last two acts, then is, astonishingly, late for her entrance, no one knows what to do....
And she emerges, the orchestra jumps to the beginning of the Liebestod, and she starts to sing. But it's not German, it's something very strange indeed: it's also disorientingly passionate, deeply committed – she seems scarcely aware of the audience, almost out of her mind –
and the Countess, in her box, stands and exclaims: "My life, she's singing it in the Irish!" And collapses.
I started guffawing – something I don't normally do. My father looked at me and said, what on earth are you reading?
And I actually tried to explain it to him, for some time. He probably thought I was mad myself, but of course he paid attention, a half-smile of bemusement on his gentle face, and interest even beyond mere kindness; as he tried to figure out the peculiar passions of this, his peculiar youngest son....