I continue to be slightly... what? – unclear, disoriented, mildly frustrated? – about my previous post, about my feelings on Christmas night.
There was a lucid sense of time and the year, of eternity and life and death, of change as perfect and inevitable.
And, quite honestly – and this is rare for me – I had a sense of my own life, death, successes and failures, as simply not terribly important: not in any negative or cruel way, but I think in the way sought by Buddhists, Taoists, and the more arcane branches of most religions.
I realized as I finished writing it that it was quite real, and I went to bed treasuring it, though I was already fatally certain that morning would bring me back to normal anxieties and desires, and the constant greed for life to be more important, more successful, more pleasurable. More, always.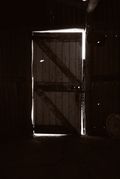 I know that some people (mostly those in such religions already mentioned) think such understanding is crucial, though rare – and that many others would treat it as anathema, as nonsense, as some sort of disguised depression or delusion. But I think the second of those groups is simply too attached to the external world – they have mistaken the biological demands of the living body, or the social/affectionate demands of other people, for necessary forces; where they are merely very common – good things, but not thereby the only or ultimate good. Then of course you have another side – as a depressive who reads too much I might be more susceptible to the tired, and poorly named, 'existentialist' pose, that would claim that nothing means anything anyway. I certainly don't mean that – perhaps I'm lucky to have seen plenty of Grove Press and French thought when I was young, because such a negative 'existentialism' looks as silly to me as, say, the current world of American politics, just to pick one example of many.
But you can already see I'm overworking it. Two days that included a train down to Yorkshire for analysis, a session that was productive but tangled, murky; discussion of two dreams with oddly violent characters in them, and an argument over experiencing feelings related to recent deaths; a sleepy, cold ride home, and much of today sleeping on the couch. A time of blurry retreat, of wondering, of wandering rather aimlessly through inner territories – of not particularly wanting to get back on the wheel of social/working time (a not uncommon feeling for me), and trying to justify all this by being alone with my – well, not my thoughts: my feelings? My dreams?
Looking at a closed door: but not completely closed, light still leaks around the edges.
And what would be the point of having it open?
And what would be the point of going through it?...