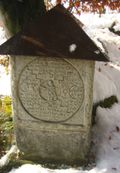 So: I am back from a week in Küsnacht, a posh southern suburb of Zürich right on the Zürichsee (where, as it happens, Tina Turner lives – and no, I didn't see her), where I studied at the Jung-Institut for a week...
It was good; some of it was great. And yes, I'd like to go back, and study for the full diploma – I figure it would take me about six years.
It's hard to sum it all up more precisely than that – probably because it also involved so much engagement with the other Intensive Study participants, and some more tangential encounters with the training students and faculty; we told all of our stories so often and in so many ways that it now feels difficult to rehearse them again. I also have twenty single-spaced pages of notes from lectures and seminars... hmm. Yes, I'm a bit of a grind.
So here are just some fragments....
(1) It is wonderful to connect again with Central European seriousness: it is associated with such a sense of purpose, and in a way much more optimism and pride than similar work in the UK. The library and bookstore, the big lecture room upstairs, the Aula and terrace room downstairs – they have the right smell, as it were, the right quality. (Except for the chairs – I'm bringing a cushion next time.)
(2) The range of lecturers and presenters: some highly intellectual, some impassioned – all fascinating, with one exception. That exception gave me a day's discomfort; I suddenly realized, to my horror, that I was about to be subject to the student's subordinate position for the first time in years. And though I know that in any institution there are teachers who are disliked by some students, and there are even frankly those who are semi-incompetent at their jobs (lecturing does after all set a bizarrely wide-ranging variety of demands), I hated the idea of having to pay attention to someone I couldn't stand.
However, after an earnest discussion, the head of the Institut assured me there was no need to attend lectures or seminars that didn't interest me, that the hours would be covered easily without me being trapped in boring miseries for hours on end... (except, perhaps, for those chairs. Actually, I think they could make money renting cushions).
(3) One workshop leader was especially remarkable, and in an unexpected way. Although I don't plan on doing child/teen/developmental therapy of any kind, I was impressed by a German children's therapist, a 'sandplay' expert. He had us discussing and painting scenes from Finnish myths, and then ended with slides (of sand pictures) and discussion of a young patient (12 years old) he'd treated a decade ago. You could see his enormous patience and clarity – throughout a seven-hour workshop with about ten people, he never seemed to lose attention or get tired of us, nor to judge anything we had to say. An amazing talent, very Zen in a way, of being constantly and completely
with
people: and probably necessary for a good child therapist....
(4) I definitely ate too much, and spent too much on food. Something about the social connections, the different contexts, at points even the sheer excitement, led me into making a true pig of myself... I'll have to curb that next time.
(5) Of course as soon as I came home I had reason to worry that I would have no ability to be any kind of therapist, let alone a Jungian analyst. I have a complicated student who has been sending me long e-mails complaining that I'm oppressing him by giving him assignments – and who uses a lot of weirdly twisty, slightly stalker-ish arguments and barely controlled, abusive hostility. Well, I answered bluntly and angrily – which made me feel as though I would never be sensible enough, clear-headed enough, to handle this kind of work.
But perhaps that's what the training is for. (And yes, David R., it would also help to do a bit of your meditation so that I could keep my cool in such situations.)
(See no. 2 for the other side of
that
kind of relationship.)
(6) Unexpectedly, a very kind and pleasant man, who lives about two kilometers away from me – Peter – is already starting his training. So there's somebody nearby who is engaged in this work, which should help a lot.
(7) As a group, we thought of a couple of ways to help pay for the tuition and expenses; Antonio and Cristina complained that pizzas cost 20 Swiss francs (= £12) while they would cost 4-6 euros (= £4-5, this week anyway) just an hour south in Milan; so they want to run a pizza place at bargain prices. This led to masses of jokes about symbolic pizzas – some examples: Unconscious Calzones (everything's hidden of course), the Borderline Pizza (no crust, just a mess of tomato sauce and melted cheese that drips all over the place), and the Undeveloped Function Pizza (a pizza crust with an underripe tomato, a jug of milk and a raw piece of pork sitting on it).
(8) Jung's house at Bollingen is fascinating (although I wouldn't be able to deal with the lack of heating and plumbing, myself); a beautiful lakeside situation, a house full of fascinating details. They need to publish a book of pictures before it starts to decay. And, although I don't want to become some kind of disciple (drink the Kool-Aid!), the place does give you a strong sense of an extraordinary man, someone whose thoughts are well worth following....
(If you are on Facebook, you can go look at my
photographs
of the house. I suspect it is impossible to take an unsuccessful picture in certain places...)
(9) I'm sorry to say I was a bit disappointed to return home. Nice to see my apartment again, and of course I sleep vastly better in my own bed... but I didn't want to come back, really.
And I still wonder: is this just a kind of idealization, of displacement? That studying in this way is merely a way of getting out of my life? Because I know well enough, at my age, that you never really get beyond your life – as they say: wherever you go, you're still there....
(10) My own fundraising idea is to publish a Guide to Zürich. I've written some notes:
1. Trains in Zürich are expensive.
2. It is not true that the trains in Switzerland run on time. I clocked one at fully one-and-a-half minutes late, and yet there was no apology forthcoming from the government.
3. The maximum legal size for any dog is nine point five inches in height. Any breed is allowed so long as it is classified as terminally cute.
4. Eating in Zürich is expensive.
5. The Zürichsee, despite its name, is a lake.
6. However neat and tidy you leave your hotel room, the Swiss person who cleans it will find a minimum of nineteen items to straighten within the space of a few minutes.
7. Chocolate in Zürich is extremely good. It is also expensive.
8. It is not true that every Swiss person is better at speaking four languages than you are at speaking English. I have seen a waiter pause for as long as fifteen seconds before remembering the correct French word for something everyday such as 'quince'.
9. Walking in Zürich is free. However, whatever you are walking towards will probably be expensive.
I may have some work left to do on this....