So, Stop AIDS Newcastle – the student-run political organization, which includes some of my own music students, and a lot of medical students among others – had a jazz concert tonight, on a night when a bit of snow completely stopped the buses and made a fair mess of the town.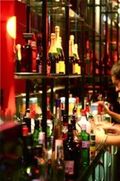 Joe, one of the organizers, had asked me to come speak – after various messages and promises back and forth, I resisted until the last minute, thinking: no, I'd rather sit here with my hot chocolate, which has some sharp-edged Hungarian liqueur in it (one of those that sounds innocent when you describe it, but can take the paint off a fender). But I finally felt guilty enough to go out to the bus stop – clearly a vain hope; but after ten minutes or so a taxi buzzed by and stopped when I stuck my hand out.
At the club, there were about a hundred of the kids, mine and others; pleasant, good music – really lively in fact... at a pause I got up and talked about what it had been like back at the beginning (for me, 1983), with an irregular/scattered overview of the past thirty years. It was perhaps a bit strange to do so: I've done more organized speeches that I've written down, or just talked about particular topics – but it seemed appropriate to just tell a few fragmentary stories, to give them an idea of all the time that has passed, and perhaps speak of a few of all the many people who are now gone.
And it worked. Another jazz group took the stage afterwards – actually quite a good one, consisting of nearly half the audience. Joe gave me a bottle of wine in thanks, which I passed on to another student who came up to talk to me; and when I finally went home, though it took a few minutes to get a taxi, I was glad I'd come out into the night....
Such kindness, and such feeling, from these kids.
It is good that they are here....